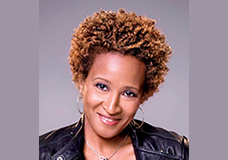 Comedian Wanda Sykes will host election specials — NewNowNext Vote — to be featured on the Logo Network. The specials will educate, activate and entertain viewers while shining a spotlight on the state of national politics through an LGBT lens. Taped in front of a live studio audience in Times Square in New York City, the specials will feature a rapid-fire, roundtable format with notable panelists from both sides of the political aisle. The first of two, one-hour specials will air four days after the Democratic National Convention, Monday, September 10th at 10PM ET/PT followed by the second special on election-eve, Monday, November 5th on Logo Network.
The past few years have seen tremendous progress for the LGBT community: the repeal of "Don't Ask, Don't Tell," marriage equality continues to gain momentum, and the widespread integration of gays into the mainstream. But as we head into election season, many gays and lesbians and their allies are wondering where the Presidential candidates stand on all the issues that matter most to the LGBT community. Who will best represent them in the next four years?
The "NewNowNext Vote with Wanda Sykes" specials will touch on hot topics for the LGBT voter including; gay marriage, Supreme Court appointments, the economy and healthcare. Added to the mix will be of-the-moment commentary sparked by the trending news from the campaign trail. Commenting on her hosting role Sykes said, "I'm excited to be working with Logo, the network that offers a voice to the LGBT community. These specials will be thought provoking, exciting and the perfect forum to discuss important issues facing our community. Plus, it is Logo so maybe I'll get to dress in drag!"
"While there has been much progress in civil rights for LGBT Americans over the course of the past few years, this is a crucial time for our community and our quest for equality on all fronts," said Lisa Sherman, Executive Vice President and General Manager, Logo. "Wanda will be the perfect host for the specials, providing her one-of-a-kind take on LGBT concerns and challenges. She's sure to entertain — and generate some discussion along the way."
Launched in 2005, Logo is in over 51 million homes across the United States, and is complemented by a federation of online properties, including LogoTV.com, NewNowNext.com, AfterEllen.com, AfterElton.com, and DowneLink.com. Logo is part of Viacom Inc. (NASDAQ: VIA, VIAB), which features a roster of popular and highly targeted brands that include MTV, Comedy Central, VH1 and Spike TV.