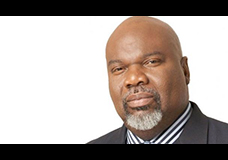 Hosted by actress Gabrielle Union, this year's star studded show will tape on Saturday, January 12, 2013 at the Warner Theatre in Washington, D.C. but will air during Black History Month, on February 11, 2013.
This year's honorees include music executive and entrepreneur Clarence Avant known to many as the "Godfather of Black Music," Academy Award winning actress Halle Berry, spiritual educator T.D. Jakes, ten-time GRAMMY award winner and international music icon Chaka Khan who will be celebrating 40 years in music and entertainment and three time WNBA MVP and four-time Olympic gold medalist Lisa Leslie.
BET HONORS has become a staple in BET history by celebrating extraordinary African-Americans including Cicely Tyson, Jamie Foxx, Iman, Herbie Hancock, Whitney Houston, Queen Latifah, Sean "Diddy" Combs along with memorable past performances by Trey Songz, Ne-Yo, Yolanda Adams, Keyshia Cole, Jennifer Hudson, Mary J. Blige and Patti LaBelle.
This year's sponsors include Allstate (Award for Education – T.D. Jakes), AT&T (Entrepreneur Award – Clarence Avant), Lexus (Award for Service – Halle Berry), Pantene (Award for Musical Arts – Chaka Khan) and the U.S. Army (Awards for Athletics – Lisa Leslie).
Proceeds from BET HONORS 2013 will benefit Life Pieces to Masterpieces, Inc., an organization that provides opportunities for African American boys and young men in greater Washington, D.C. by developing and unlocking their potential and empowering them to transform their lives and communities.