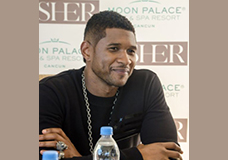 Palace Resorts – the company that sets the standard in five-star, all-inclusive resort accommodations – hosted the celebration of the year and closed out 2012 with international superstar and seven-time Grammy-Award winning singer and entertainer, Usher.
The R&B singing sensation rocked the stage at an exclusive sold out concert at Moon Palace Golf & Spa Resort in Cancun on December 29, 2012. Famous for his record-breaking Top 40 songs, Usher performed in front of more than fourteen thousand hotel guests, fans, VIPs and local government officials.
Usher kicked off the night with his mega hit, "Can't Stop Won't Stop." The two-hour set list included hits from his vast catalogue including throwback hits such as Nice & Slow, Let it Burn, as well as hits from his latest album Looking 4 Myself, including the hit, "Scream."
Following the concert, the hotel hosted local socialites, top hotel executives, local government officials and other hotel VIPs at the grand opening of Moon Palace's new nightclub, Noir. The latest addition from the resort's multi-million dollar enhancement project, Noir offers a striking mix of cutting-edge design and glamorous nightlife. The 350 guests, who attended the exclusive after party at the nightclub, were joined by Noir's legendary French designer, Francois Frossard , one of the most progressive nightclub taste-makers in the United States.
Noir, sure to raise the bar for all-inclusive decadence, will offer an upscale nightlife experience with live entertainment, a handcrafted specialty cocktail list and glamorous decor. With live performances by international artists including Shakira, Enrique Iglesias and the Broadway hit, Cirque Dreams Jungle Fantasy, as well as upcoming performances by Air Supply and former Saturday Night Live cast members in 2013, Palace Resorts has elevated the traditional all-inclusive experience by offering guests the opportunity to witness world-renowned live entertainment for unforgettable, "awe-inclusive" vacations.
Moon Palace Golf & Spa Resort continues to elevate the all-inclusive concept and offer guests an unforgettable vacation experience by combining world-class hospitality and top-rated live entertainment with exceptional amenities and attractions. Located on Cancun's tranquil south shore, nestled between 123 acres of tropical foliage and secluded white sand beach, the property offers guests more than 2,400 waterside and garden view accommodations or golf villa suites.