p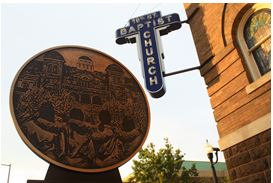 hoto credit:by Alan Spears
Newly designated national park site represents a critical chapter in America's civil rights story
President Obama used his authority under the Antiquities Act to designate the Birmingham Civil Rights National Monument, dedicated to honoring and preserving the stories of those who joined in the struggle for racial equality in the United States. Today's designation represents the culmination of long-running efforts by City of Birmingham Mayor William Bell, Congresswoman Terri Sewell (D-AL), the National Trust for Historic Preservation, National Parks Conservation Association and other partners to advocate for the inclusion of this site in the National Park System.
In post-Second World War Birmingham, Alabama, racial segregation was the law of the land, and those laws were viciously enforced through state-sanctioned violence. In 1963, civil rights leaders Dr. Martin Luther King Jr. and the Reverend Fred Shuttlesworth launched the Project C protests (the "C" stood for confrontation) to challenge segregation laws and practices in one of the most heavily segregated cities in North America. Throughout the months of April and May, the non-violent marches and boycotts, sometimes led by elementary school children and almost always brutally opposed by local authorities, shook the city to its core. Project C focused national and international attention on injustice in the United States, brought the front lines of the civil rights movement to Alabama and broke the back of segregation in Birmingham.
The national monument will include sites in Birmingham that were ground zero for the battles that ensued in 1963:
A.G. Gaston Motel: Opened in 1954, this motel was considered a historic monument to black entrepreneurship in a time of racial segregation, and was owned by Arthur George Gaston, a prominent African American businessman.
Birmingham Civil Rights Institute: Serving more than 140,000 individuals each year, the institute opened its doors in 1992 as a hub for children, students, adults and scholars, encouraging new generations of people to examine our country's civil rights history as well as broader subjects such as equality and race.
16th Street Baptist Church: This church was the target of a bombing in September 1963 that killed four African American children, Addie Mae Collins, Denise McNair, Caroline Robinson and Cynthia Wesley, who were attending Bible study. This act of domestic terrorism became a galvanizing force for the passage of the Civil Rights Act of 1964.
Kelly Ingram Park: Civil rights protesters gathered in this park for marches. Many of the April and May 1963 protests here were violently disrupted by police.
The monument will also include other contributing resources from the Birmingham Civil Rights District, including the Colored Masonic Temple, St. Paul United Methodist Church and portions of the 4th Avenue Business District.
Theresa Pierno, President and CEO of National Parks Conservation Association, commented:"The events in Birmingham opened our eyes to the plight of so many African Americans facing discrimination in the South, and ultimately led to the abolition of segregation laws. Places like the 16th Street Baptist Church and Kelly Ingram Park were pivotal in the struggle for civil rights, and are truly deserving of national park status. These important places should be protected and their stories told. And no group is better suited to do this than the National Park Service. We commend Rep. Terri Sewell, Birmingham Mayor William Bell and our national partners for their tireless efforts in making this national park site a reality.The designation of this important, community-supported monument is also a testament to the positive impact of the Antiquities Act, which for more than a century has allowed presidents to protect and preserve some of America's most cherished places."
Alan Spears, Cultural Resources Director with National Parks Conservation Association, adds: "Today's designation honors the bravery and sacrifice of the foot soldiers of Project C. Most were never known to history, but we cannot afford ever to forget what they accomplished in Birmingham in 1963.The African American experience is alive and well in our national parks. The addition to the National Park System of a Birmingham Civil Rights National Monument ensures that our shared history as Americans will be protected in perpetuity for the benefit, enjoyment and inspiration of all people."