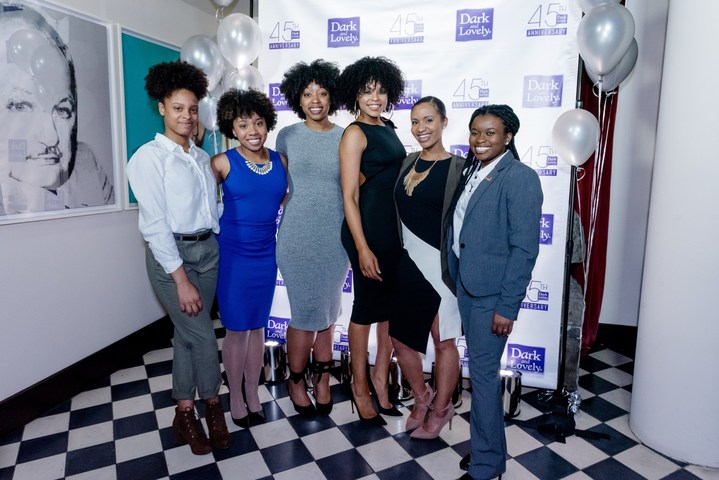 Dark and Lovely Commemorates 45 Years of Beauty with Brand Ambassadors Teyonah Parris and Demetria McKinney, The Tom Joyner Foundation and its 2017 Scholarship RecipientsIn the photo: Actress and singer Demetria McKinney and the 2017 recipients of Dark and Lovely's Young Women with a Purpose Scholarship in partnership with The Tom Joyner Foundation at Dark and Lovely's 45th Anniversary celebration.
Dark and Lovely, the brand that caters to the hair care and styling needs of women of color, celebrated the kick-off of its 45th Anniversary with a commemorative event in New York City, yesterday. The festivities which, highlighted Dark and Lovely's rich heritage and impact within the African American community, was attended by leading beauty media and influencers.
Dark and Lovely was introduced 45 years ago as the first hair color product formulated specifically for African American women. Now, decades later, Dark and Lovely has grown to include a complete collection of deep conditioning treatments, shampoos, fade-resistant hair colors, relaxers, stylers and a full line of products specifically designed for naturally curly hair. Most recently Dark and Lovely Au Naturale, which takes the guesswork out of styling and caring for natural hair, was introduced to consumers with curly, wavy, kinky and coiled hair textures.
"Since its inception in 1972, Dark and Lovely has helped women of color embrace their unique and highly individual styles, by offering innovative products and technology exclusively designed to meet their needs," said Melinda Johnson, Assistant Vice President, Marketing, Dark and Lovely. "Regardless of hair type – whether naturally curly, straight, color-treated or in a protective style – we pride ourselves on offering an array of regimens and treatments to manage these hair styles and textures."
"I am thrilled to be able to help Dark and Lovely celebrate their 45th anniversary and I am so excited to be the newest brand ambassador," said actress Teyonah Parris. "I grew up using Dark and Lovely products and I'm so proud to be able to represent the brand as an ambassador. It is a privilege to celebrate this significant milestone during Black History Month."
As part of the Young Women with a Purpose Project, and in partnership with The Tom Joyner Foundation, the brand awarded five dynamic students with scholarships totaling $10,000 and assigned them to L'Oréal USA senior-level executives, who will serve as  mentors throughout the school year. Scholarship winners include: Ashani Scales of Delaware State University, Renea Young of Mississippi Valley State University, Hollye Weekes of Wiley College, as well as Kimberly Burton and Cherise McAdoo of Hampton University.