US-based Clinical Pharmacist Dr. Michael Nana Nyame-Mireku during an interview with TheAfricanDream.net called on Ghana and African governments to make it less rigorous and tedious for pharmacists and other professionals that have practiced in their respective fields for over a decade return to contribute towards the development and modernization of Africa's economy.
Dr. Nyame-Mireku is an Assistant Director of Pharmacy and Director of the Residency Program of the Pharmacy Department at the Virginia Hospital Center (VHC) in Arlington, Virginia, United States (US).He told this writer in an interview at his Maryland US residence that he is "…not calling for the loosening up of the systems in place already, am just saying there are very easy and reliable ways to check the authenticity and qualifications of professionals who return home to contribute their quotas to the economy thanks to the internet."
'We want to help' says Dr. Michael Nana Nyame-Mireku
" People like myself outside of Africa genuinely want to be part of the force of positive change especially for the younger generation, we want them to believe in themselves and to most importantly believe they can do it because we did it too"The Clinical-Pharmacist also called on Africans in the Diaspora to eschew the idea where some of them tend to think their governments need them and so they must be attracted by government, he rather advised: "we also need to know that it's an equal opportunity for us all because apart from the opportunity you get to serve your people there is actually the opportunity to also make money and help advance systems in Africa."
When TheAfricanDream.net asked how the Clinical Pharmacist gives back to the society he said he does that through teaching clinical pharmacy practice to pharmacy students across the US and helping to solve accommodation problems of some students in Ghana through student hostels he has built and rented out at reduced and affordable prices.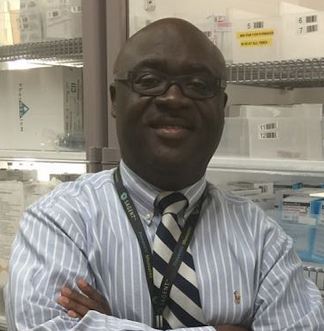 In the long-run Dr. Nyame-Mireku hopes to convince Ghana to tap into some of the resources that are already available in the US, especially at where he works – VHC – to positively help develop healthcare based on the vast exposure and technology that is available in the US, and other foreign trained professionals. "I would also love to teach if given the opportunity"Giving back to society
Giving back to society
Also looking into the possibility of collaborating with Ghanaian and pharmacy schools in the US to foster the exchange of knowledge and experience for the benefit of students, Dr. Nyame-Mireku has worked at VHC since 2003 where he rose to this current rank starting as a Pharmacy Clinical Coordinator, he also holds a second Ph.D in Organization and Management and a Master's in Information Technology. He also holds two US pharmacy specialty board certifications in Nutrition and Pharmacotherapy.
Today the Ghanaian Doctor teaches at Howard University Pharmacy School in Washington, D.C., and is an adjunct professor at the University of Shenandoah and the Virginia Commonwealth Universities respectively in the state of Virginia, and the New England School of Pharmacy in Connecticut among other American educational institutions. He is a four-time recipient of "Preceptor of the Year" from the various pharmacy schools.
Before leaving Ghana in 1991 Dr. Nyame-Mireku completed the Kwame Nkrumah University of Science and Technology in Kumasi. He now lives in the US State of Maryland with his wife and two children, contact him via email at nyapharma@yahoo.com .