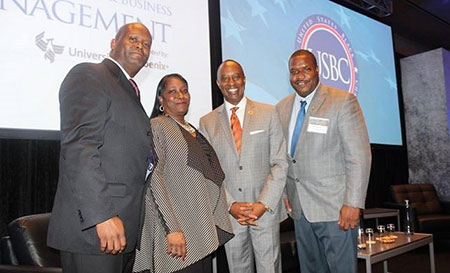 By Long Island African American Chamber of Commerce President Phil Andrews
Minority Business Development in America on both the local and national level in America remains a lofty goal. If America is to fulfill its promises to become a nation of prosperity by setting an example of diversifying the dollars spent from its budget from the hamlets of villages, towns, counties and cities across the landscape of America it will begin to fulfill its promises. Supporting diversity in the manner in which it spends its dollars is an important concept in America. Duly qualified business should be able to bid on contracts in a fair and equitable manner throughout America.
In New York State alone Governor Mario Cuomo has set the lofty goal of 30% of all business done in the state of New York to be set aside for MWBE'S. In NYC under the leadership of Mayor Deblasio, a recent initiative to reach out to MWBE'S has recently led to a partnership between Queens Economic Development Corporation (QEDC)and the Mayor's Office under the leadership of Mayor Bill Deblasio. On Long Island Nassau County Comptroller George Maragos has formed an MWBE Committee in Nassau County focusing on Public Works Business Opportunities.
Many articles have been written around the need to increase MWBE Certification and Utilization. Newsday published an article titled "Minority Women-owned businesses growing as population shifts" on January 8, 2016 written by Aisha Al-Muslim, Newsday's Business Reporter.
Nationally the US Black Chambers under the leadership of Ron Busby, Sr. President and CEO of a nationwide network on 116 African American Chambers nationwide has been one of the nation's premier advocates of MWBE Certification and Utilization. In addition, the US Black Chambers has been a force in strengthening chambers nationally through its School of Chamber and Business Management.
On a local level chambers of commerce such as the Long Island African American Chamber of Commerce, Inc. and the Long Island Hispanic Chambers of Commerce, Inc. have begin to formed strategic partnerships to make further inroads to MWBE certification and utilization in the New York region.
Photo: Photo credit: Christopher Watson – Picture Left to Right: Christopher Watson, LIAACC'S Nassau Director, Sharon Davis, Vice President of LIAACC,Ron Busby, President, US Black Chambers, Inc. and Phil Andrews, LIAACC'S President