Welcome to Unity First Online National News
To view our current publication, click on the image below.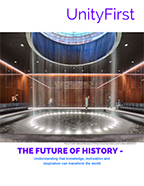 We invite you to read the publication and share your news. Also, look for our future  national publications, enews and stories carried on the UnityFirst.com web site and archived below. For more information or questions about submitting news and navigating the publications or web site, call (413) 221-7931 or send email to: jfondon@unityfirst.com. Enjoy!
Winter 2012 Issue
 
Mid Winter 2013 Issue

2013 Fall/Winter Issue

2014 Fall Issue

 2017 Spring Issue