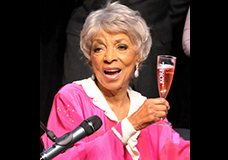 Ruby Dee recently celebrated her 90th birthday with friends and family during at celebration at New York's Schomburg Center for Research in Black Culture. The event included the showing of an excerpt from the documentary highlighting Ruby Dee and her late husband Ossie Davis. The documentary was created by her grandson, Muta'ali Muhammad. In honor of the legacy of Ruby Dee, please view  the video clip of the documentary by, clicking here. Photo credit: New York photographer Gerald Peart.
As a child, a grandson recalls building toys with his grandfather, Ossie Davis, and listening to the books that his grandmother, Ruby Dee, read to him. Now, as a young man, he is compelled to explore more deeply the lives and careers of his grandparents – acclaimed actors, activists, and iconic examples of lasting love – in hopes that the secrets to finding divine love (romantic, professional, spiritual, familial, communal and self love), becoming a great father, a committed husband and a great man will be revealed in each artifact he finds and each conversation he has with "Gram Ruby".
Ossie Davis and Ruby Dee are pioneers in theater, film, and television, who helped to pave the way for generations of young black actors, filmmakers, and activists. Their massive body of work spans over seven decades and includes the receipt of the National Medal of Arts, Kennedy Center Honors, a Grammy award, an Emmy Award, the Marian Anderson award, and an Academy Award nomination. Motivated in no small part by Ossie's death in 2005, which closed the door to any opportunity to capture his thoughts on divine love first hand, Ruby looks forward to her grandson's visits to her home in New Rochelle, New York. With each visit, she and her grandson come across a gem in the unexplored family archive; a handwritten letter from Ossie, a long forgotten audio recording, their marriage certificate, a postcard from Malcolm X, and much more. These gems spark Ruby's first hand accounts of their past and lead us to a series of chapters telling the story of Ossie and Ruby's lives from birth to present day.