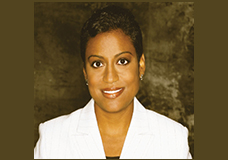 United Way Worldwide   announced the appointment of Stacey D. Stewart as President of United Way USA – a newly created position that reflects the organization's commitment to its U.S. network of more than 1,200 local members. Stewart's appointment is effective October 15.
Stewart will drive the strategic direction for United Way U.S.A., working with leaders throughout the United Way network to drive community impact in the areas of education, income and health – the building blocks for a good quality of life. She will also work to protect and enhance the organization's brand and reputation.
"I am honored that Stacey will serve as U.S. President and continue working to advance the United Way movement," said Brian Gallagher, president and CEO, United Way Worldwide. "Her depth of expertise working across multiple sectors allows her to create real impact throughout the United Way network."
Prior to this appointment, Stewart was Executive Vice President, Community Impact Leadership and Learning at United Way Worldwide. Before joining United Way, Stewart was with Fannie Mae where she was Chief Diversity Officer and Senior Vice President for the Office of Community and Charitable Giving. Prior to that appointment, Stewart was President and Chief Executive Officer for the Fannie Mae Foundation.
"I am deeply honored to lead United Way U.S.A. and build on its rich history of strengthening communities. I look forward to working with United Way leaders across the country, as well as our partners worldwide, so that together we can create opportunities for a better life for all," said Stewart.
In 2009, United Way of America joined with United Way International to create United Way Worldwide, the world's largest privately support charity, with more than 1,800 local organizations in 41 countries and territories. In 2011, the organization raised $5.14 billion ($3.927 billion in the U.S.).
Stewart earned a bachelor's degree in economics from Georgetown University and a master's degree in business administration from the University of Michigan. She has won several notable professional honors and awards including the 2007 Leadership Award from the National Urban League; the 2006 Entrepreneurial Philanthropy Award from the Washington Area Women's Foundation; and numerous honorary degrees including Texas Southern University, Alabama A&M and Trinity University in Washington, DC.