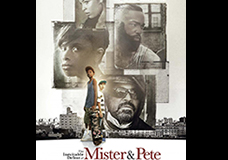 The 17th Annual Urbanworld Film Festival ( www.urbanworld.org ) presented by BET Networks announced that actor Larenz Tate – star of the BET original movie Gun Hill – will serve as festival ambassador and George Tillman's The Inevitable Defeat of Mister & Pete is the official Closing Night Film on September 21.
Known for iconic performances in Love Jones, Menace II Society, Dead Presidents and Why Do Fools Fall in Love?, Tate will attend the Gun Hill screening on Friday, September 20 at 8:00pm. Directed by Reggie Rock Bythewood, the film centers around a pair of identical twins on opposite sides of life: Trane, a cop, and Bird, a con (both played by Tate). On one fateful night, Trane is killed. Bird assumes his identity and begins his own search for redemption.
"I'm honored to not only have my new BET project, 'Gun Hill,' premiering here, but to also be festival ambassador of this year's Urbanworld Film Festival," said Tate. "This festival is a celebration of multicultural art and its diverse and innovative contributors. I look forward to working with the Urbanworld team and enjoying some great films!"
Directed by Tillman and written by Michael Starrbury, the festival's Closing Night Film The Inevitable Defeat of Mister & Pete stars Skylan Brooks, Ethan Dizon, Jordin Sparks, Golden Globe® and Emmy® Award winner Jeffrey Wright, Adewale Akinnuoye-Agbaje, Anthony Mackie and Academy Award® and Golden Globe® winner Jennifer Hudson. Jana Edelbaum, Rachel Cohen, and Bob Teitel produced the film with Alicia Keys, Susan Lewis, Clay Floren, Aimee Shieh, Julio Depietro, Keith Kjarval, Mary Vernieu, and Amy Nauiokas executive producing.
The Inevitable Defeat of Mister & Pete is a beautifully observed and tremendously moving film about salvation through friendship and the way transformation sometimes can happen just by holding on long enough. During a sweltering summer in New York City, 13-year-old Mister's (Skylan Brooks) hard-living mother (Jennifer Hudson) is apprehended by the police, leaving the boy and nine-year-old Pete (Ethan Dizon) alone to forage for food while dodging child protective services and the destructive scenarios of the Brooklyn projects. Faced with more than any child can be expected to bear, the resourceful Mister nevertheless feels he is an unstoppable force against seemingly unmovable obstacles. But what really keeps the pair in the survival game is much more Mister's vulnerability than his larger-than-life attitude. Visit www.MisterandPeteMovie.com for film information & updates. Follow the social conversation at #MisterAndPete
Urbanworld Founding Sponsor HBO® returns to host the 4th Annual Urbanworld Digital, a one-day digital track on September 18 at the HBO Theater (1100 6 th Ave @ 42nd St, 15th floor) from 4pm – 9pm, featuring key industry influencers who will discuss topics including digital marketing, social media and distribution.