Alvin Ailey American Dance Theater , beloved as one of the world's most popular dance companies and New York City Center's Principal Dance Company, will return to the New York City Center stage for the 42nd consecutive year from December 4, 2013 – January 5, 2014 with exciting performances that have become a joyous holiday tradition.
Artistic Director Robert Battle continues to expand the Company's diverse repertory with premieres and new productions representing a wide range of important choreographic voices that give Ailey's extraordinary group of artists new ways to inspire audiences.
In-demand choreographer Aszure Barton's world premiere is an exhilarating conversation with Ailey's renowned dancers, who inspired the process, movement and composition, as well as the original, percussive score by musical partner Curtis Macdonald. With a collaborative stylistic approach that is constantly evolving and like no other, Barton's unique and award-winning choreographic achievements are increasingly gaining wide recognition and have been presented by a diverse group of important national and international dance companies.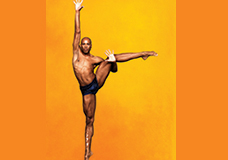 Wayne McGregor's Chroma is a ballet filled with layered, beautiful dancing and astonishing lifts. The Ailey company premiere, made possible with the generous support of New York City Center, marks the first time a work by this multi award-winning British choreographer will appear in the Ailey repertory. Set to an amalgam of original music by Joby Talbot and orchestrations of music by Jack White III of The White Stripes, the work explores McGregor's curiosity of a concept freed from whiteness and the drama of the human body. Created in 2006 for The Royal Ballet, a luminous, minimalist set designed by architect John Pawson uses motifs of inside and outside, entrance and exit, light and shadow, void and plenitude, to create a spatially charged environment explored through the medium of the ten dancers' bodies.
Modern dance innovator Bill T. Jones's D-Man in the Waters is a true modern-dance classic and a New York Dance and Performance ("Bessie") Award-winning work. Set to Mendelssohn's Octet for Strings in E-flat Major, Op. 20 (1825), it is a celebration of life and the resiliency of the human spirit that embodies loss, hope and triumph. The addition of this joyful tour-de-force to Alvin Ailey American Dance Theater's repertory comes 30 years after Alvin Ailey originally invited Bill T. Jones to create Fever Swamp for the Company.
Alvin Ailey American Dance Theater inspires all in a universal celebration of the human spirit using the African-American cultural experience and the American modern dance tradition. Having embarked on an exciting new era in Ailey history, Ailey's 30 dancers will move audiences in a diverse repertory of premieres, new productions and repertory classics by a variety of choreographers, revealing once again why Alvin Ailey American Dance Theater is one of the world's most beloved dance companies.
A Detailed performance schedule for the season will be announced prior to September 3rd, when tickets go on sale. Tickets starting at $25 will be available for purchase at the New York City Center Box Office, through CityTix® at (212) 581-1212 or online at www.alvinailey.org or www.nycitycenter.org. Discount tickets are available for Ailey Super Fans who purchase tickets for more than one performance, for students with an appropriate ID and for groups of 10 or more (discounts do not apply to $25 tickets). For group sales, call 212-405-9082 or e-mail groupsales@alvinailey.org. For further information about the Alvin Ailey New York City Center season please visit www.alvinailey.org.