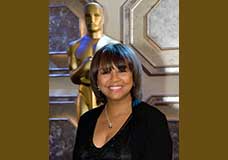 The NAACP congratulates Cheryl Boone Isaacs who was recently named the President of the Academy of Motion Picture Arts and Sciences. The Academy, which produces the annual Oscar ceremony, has not had a female president since 1983, and has never had an African-American president in its 86-year history.
"Cheryl Boone Isaacs is a wonderful selection for an organization that is seeking to expand diversity and inclusion," stated NAACP Chairman Roslyn M. Brock. "As one racial barrier is broken, we are excited to see what Ms. Isaacs will do to break down even more barriers in the industry."
"We recognize the election of Cheryl Boone Isaacs as an historic moment in Hollywood," stated Benjamin Todd Jealous, President and CEO of the NAACP. "This appointment sends a clear message to the rest of Hollywood. We believe her selection will encourage the studios and networks to empower more women and minorities throughout the entertainment industry."
"Cheryl Boone Isaacs' appointment is another step in the right direction for the Academy and diversity in Hollywood," stated Robin Harrison of the NAACP Hollywood Bureau. "We congratulate her and look forward to the Academy's work and influence under her new leadership."
Isaacs has led a distinguished career as a marketing and publicity consultant, previously working at New Line Cinema and Paramount Pictures. At the Academy, she previously served as First Vice President, and has served in every other office within the organization. Her role will include selecting a host for the Oscars telecast.
In July of this year, the Academy sought to expand racial and ethnic diversity among its voting members by inviting 276 new members from various backgrounds. The Academy also hired former NAACP Hollywood Bureau Executive Director Vicangelo Bulluck as Managing Director of Outreach and Strategic Initiatives, to help foster inclusion and diversity.