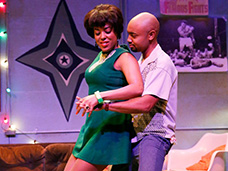 "Detroit '67" is a Public Lab production and a co-production with the Classical Theatre of Harlem and the National Black Theatre, where the show will run from March 23rd – April 14th.
It's 1967 in Detroit. Motown music is getting the party started, and Chelle and her brother Lank are making ends meet by turning their basement into an after-hours joint. Always at odds, they fight over the future of the family trade. Suddenly, they find themselves caught in the middle of the '67 riots.
For tickets please visit http://www.classicaltheatreofharlem.org/ or call 1.866.811.4111.