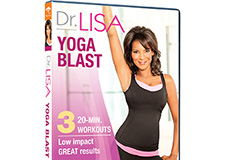 Practicing physician and co-host of the Emmy® Award-winning talk show The Doctors releases her first workout –Dr. Lisa: Yoga Blast — which is now  DVD from Acacia. It features three 20-minute low-impact yoga workouts.
Dr. Lisa Masterson knows a thing or two about staying healthy and fitting exercise into a busy schedule; that's why she designed these efficient workouts alongside nationally certified health and wellness instructor Elise Joan, with lively dance moves, empowering strength exercises, and invigorating stretches to suit any lifestyle.
With Yoga Blast, you'll be feeling stronger, more flexible, and more energetic in no time! (63 minutes, $16.99, AcaciaLifestyle.com).
In addition to her popular daytime television show, now in its fifth season, Dr. Masterson is on staff at Los Angeles' Cedars-Sinai Medical Center; has appeared as a health expert on several national television programs (The Oprah Winfrey Show, Dr. Phil, The Late Late Show with Craig Ferguson, among many others); published a well-reviewed memoir, Paper Dollhouse; and has been honored by the Red Cross and March of Dimes for her charity work with Maternal Fetal Care International (MFCI).
With Yoga Blast, you can burn calories and lose inches as you gain strength and confidence. Dr. Lisa demonstrates her favorite moves in these three 20-minute workouts of low-impact exercises. Following a doctor's orders has never been so much fun!
A  nationally certified health and wellness instructor, Elise Joan has taught at top spas and gyms across the country and is the creator of several bestselling workout DVDs. She has appeared as a featured fitness expert on ABC, E!, and CBS, among many others.