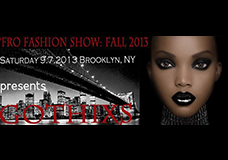 The ultimate fusion of natural hair, beauty and fashion hits the streets of New York for Naturally Me! Media's 'Fro Fashion Week (FFW), Sept. 5-8th. Known for bringing fierce, trendsetting and natural glam, FFW will collide with New York Fashion Week drawing hundreds of naturalistas to the Big Apple!
The celebration kicks-off with 'FRO FASHION'S NIGHT OUT where curly-haired fashionistas will gather for a girls-night out shopping party at two Brooklyn boutique hotspots.  FFW continues with 2-days of POP-UP SALONS offering complimentary hair & make-up services by some of your favorite hair & beauty brands.
Interactive and informative showcases will be present live through the 'FRO FASHION WEEK MAIN STAGE ATTRACTIONS ,including natural hair, beauty and fashion vendors in the MAIN STAGE MARKETPLACE. The NYC'FRO FASHION SHOW, themed GOTHIX, will deliver show-stopping couture and street fashions while the 'FRO FASHION SHOW MIXER closes it all out!
'Fro Fashion Week takes place at the Sheraton Brooklyn New York Hotel (Sept. 5-8th) while the 'Fro Fashion Show on Sept. 7th takes place at Brooklyn's fashionable Kai Studio. Tickets can be purchased online at www.frofashionweek.com.