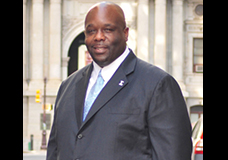 Jonathan A. Mason was elected 34th International President of Phi Beta Sigma Fraternity, Inc at its 71st International Conclave. Mason, the Greek-lettered organization's current International First Vice President, will serve for two years as the president. He has served in several leadership positions in Phi Beta Sigma Fraternity, Inc namely, his current position; International Director of Social Action; President of Delta Zeta Chapter, Chairman, Million Man March Community Forum, March 96;  Eastern Regional Director of Social Action and Founder and Chairman of Phi Beta Sigma Fraternity International Anti-Hazing Campaign. He also led the effort to preserve 1,000,000 historical Sigma documents and was the co-convener of the organization's Serious Sigma Summit.
Mason's campaign slogan, "Transform," has been the beacon light through which his campaign was navigated. "My Brothers, together we will transform our organization to develop a fully functional Client Relationship Management System. We will monetize our property at 145 Kennedy Street, NW, Washington D.C. and continue our Anti-Hazing Campaign, through communication, continuing education and compliance," he enthusiastically remarked. "Our Brotherhood Experience, Our Revenue Stream and Our Commitment to Risk Management and Membership Intake will be a priority for my administration," he added.
Professionally, Mason directs sales for 77 WABC and WABC Syndication. His primary responsibilities include radio sales for "Imus in the Morning Show," The Geraldo Rivera Show" and "The Sean Hannity Show." Prior to his tenure with WABC, they were ranked between 18 and 19th in revenue in America's largest radio markets. Today, WABC is a top 10 revenue earner in New York City, which places it as one of the top billing stations in America. Mason is recognized by his peers as one of the pre-eminent minds in development radio sales. He is one of only two African Americans executives serving in his role in at a general market radio station.
He holds a Bachelor of Arts Degree from Norfolk State University. He is married to Dionis A. Hussey, a member of Zeta Phi Beta Sorority, Inc. and has two sons Jonathan, Jr. and Jackson Alexander.
Also, elected to the organization's General Board are Micheal Cristal, International First Vice President; Profit Idowu, International Second Vice President; Charles E. Ellis, Jr., International Treasurer; Jean B. Lamonthe, International Director of Education; Quentin Goodwin, International Director of Bigger & Better Business; Dr. Ivory Lyles, International Director of Social Action; Honorable John M. Turner, Esq., International Legal Counsel; Ray Smith, International Director of Collegiate Affairs; Christopher Colbert, Collegiate Member-at-Large and Jeremy Byrd, Collegiate Member-at-Large.
As Phi Beta Sigma Fraternity, Inc prepares to celebrate its 100th year anniversary on January 9, 2014, the organization's founders, A. Langston Taylor, Leonard F. Morse and Charles I Brown, can be proud that their creation will be managed by Jonathan A. Mason capable, progressive and transformational leadership.
SOURCE Phi Beta Sigma Fraternity, Inc