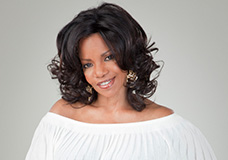 "I'm delighted to bring the hit comedy play Good God A'Mighty! to Atlanta for a special two-week engagement," states playwright Lolita Snipes. "It's my Valentine's gift to the city. Starring Tony Award winning actress and legendary singer Melba Moore, this electrifying comedy will give audiences a behind-the-scenes look inside an African-American church in the midst of change. Featured in the cast of memorable characters are nationally known comedians Just June and Dante Carter. Make plans to bring your family and friends to join us at the intimate 14th Street Playhouse from February 14-24."
The play takes a comical look into African-American church culture when a vibrant young Pastor from New York moves down south to take over an old style church. The zany antics are non-stop when two church mothers fall in love with him while sparks fly as the other members fight to keep their old traditions intact. Trouble and fun ensue when the bombastic choir director tries to run him out of the "The Big Easy" and back to the "The Big Apple!" Amidst the laughter, the story weaves the universal themes of love, relationships, and what it means to truly belong to a community. Sometimes you find inspiration in the most unexpected places and realize…God really does have a sense of humor.
The foot-stomping, soul-stirring original music scored by Lolita Snipes for Good God A'Mighty! ranges from gospel, classic choir music and a-cappella, to R&B. Audiences will also get a chance to experience the traditional Holy Dance, which is an integral part of the Black gospel expression.
Melba Moore plays feisty choir director, Reen L'Dimp, who takes her position as head of the clean-up committee very seriously. Moore began her acting career on Broadway in the classic musical HAIR. From there she went on to star in PURLIE and earned a Tony Award for her portrayal as Lultiebelle. She appeared with the iconic Eartha Kitt in the hit musical Timbuktu! And she made history as the first African-American to perform in the role of Fantine on Broadway in the acclaimed musical, Les Misérables.
The 14th Street Playhouse is conveniently located at 173 14th Street, at the corner of 14th Street and Juniper, across from the W Midtown. There is a parking deck adjoining the theater.