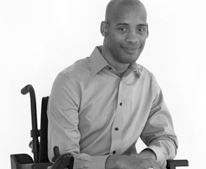 Author Christopher D. Coleman has written a truly inspiring memoir that highlights the strength of the human spirit
Black, Disabled, Gay Christian man refuses to live a life defined by a label, confined by society and denied by the church. Obstacles and challenges are commonplace in life and one can either face it with courage and faith or curl up into a little ball of fear and despair. One such example is the life of author Christopher D. Coleman who was diagnosed with cerebral palsy and has faced the obstacles life has thrown at him with an admirable fortitude. In "No Longer Confined" readers will be able to read of his battle and triumph over being segregated, belittled and ostracized due to his race, disability and sexuality. "No Longer Confined" is available now at www.barnesandnoble.com, www.amazon.com and www.christophercoleman.net . View Book Trailer.
With the same strength and courage of Nelson Mandela , he triumphantly pursued truth, wholeness, and freedom. "No Longer Confined" is a truly enthralling memoir that follows the inspiring life of Christopher D. Coleman, who at birth was diagnosed with Cerebral Palsy.  As an African-American adolescent in the South, he learned that stereotypes could be just as debilitating as a disability. Due to his sexuality as an adult in the 21st century Christopher confronts his fears and the bullying of many.
Despite the challenges his life presented, the author was able to overcome, finish high school at the top of his class, graduate college as well and go on to live an unconfined life. This immensely inspiring story of courage and fortitude is a message to all the people in the world who confine themselves and others to many situations and circumstances.
This book is filled with inspiring, challenging and heartbreaking moments that would not only lift one's spirits but also prove to everyone in the world that anyone can achieve a dream, as long as one tries hard enough. "No Longer Confined" illustrates the power of grace, love, mercy, determination, perseverance and faith.
About the Author
Christopher D. Coleman is American's Unconfined Life Coach, motivational speaker, author, and confidence-builder. He is the founder and CEO of Unconfined Life Institute, Inc.