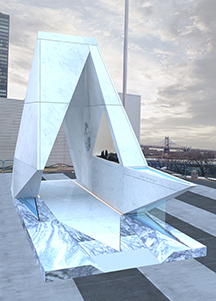 The United Nations announced that the observance of the eighth International Day of Remembrance of the Victims of Slavery and the Transatlantic Slave Trade will be held on Wednesday, March 25, 2015. More than 15 million men, women, and children were victims of the triangular slave trade, the largest forced migration in history.
This year, the United Nations proudly invites visitors to the historic unveiling of The Ark of Return, the permanent memorial, designed by Rodney Leon an American architect of Haitian descent. The memorial recognizes the millions of African people who endured the extreme conditions on slave ships during the Middle Passage and the subsequent horrors of enslavement upon their arrival to the "New World."  
Built on the Visitors Plaza at the United Nations Headquarters in New York City, as its theme suggests, The Ark of Return will help us to acknowledge the tragedy, consider the legacy of slavery, and never forget the millions of people affected by these events. It is designed in three parts for visitors to walk through and initiate a psychological, emotional, and spiritual transformation. It provides a solemn space within which one may reflect upon a tragic page in the history of mankind.
In his annual message about the International Day of Remembrance of the Victims of Slavery and the Transatlantic Slave Trade, Secretary-General Ban Ki-moon says, "The Ark of Return Memorial will bring home to visitors from around the world the terrible legacy of the slave trade. It will enable them to reflect on a core goal of the United Nations: the promotion and preservation of the dignity, freedom and equality of all human beings."