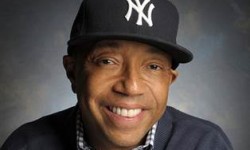 Celsius, one of the most popular healthy energy drinks backed by clinical science, recently introduced the Simmons-inspired Sparkling Grape Rush as well as a new Sparkling Watermelon flavor, driven by increased demand for flavorful and functional sparkling beverage options. Sparkling Grape Rush is modeled after Simmons' well-known nickname "Uncle Rush."
Sparkling Grape Rush is a twist on the classic flavor of grape soda, with Sparkling Watermelon poised to emerge as an all-season favorite. Both naturally-flavored healthy energy drinks will be available in single can and four-pack formats beginning next month.
"At Celsius, we are committed to providing our consumers with great tasting, healthy energy drink choices, and with over a year of R&D invested into these new products to ensure their authentic flavor and function, we are so pleased to add Sparkling Watermelon and Sparkling Grape Rush to our ever-expanding portfolio," stated Gerry David, CEO of Celsius Holdings, Inc.