Ashley Bryan: Singing Praise of Thanks is a film about this artist of 92 years whose art-making on the Maine island of Islesford is a celebration of joy and creativity, the child within us, and gratitude for all of life. This trailer announces the soon-to-be-released feature documentary which will be screening at festivals and theaters around the country and will be followed by a half hour version for high school and college students. A companion curriculum guide will also be available free on our website mainemasters.com.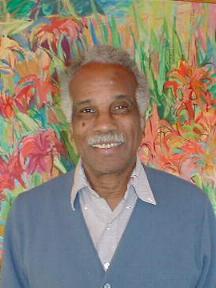 Ashley F. Bryan (born July 13, 1923) is a writer and illustrator of children's books. His content usually covers the African American experience. He was U.S. nominee for the Hans Christian Andersen Award in 2006]  and he won the Laura Ingalls Wilder Award for his contribution to American children's literature in 2009 Ashley Bryan's Freedom Over Me was short-listed for the 2016 Kirkus Prize and received a Newbery Honor.
Bryan was born in Harlem and raised in the Bronx (both in New York City). His father worked as a printer of greeting cards and loved birds. Bryan once counted a hundred caged birds in his childhood home. He grew up with six brothers and sisters and three cousins. Bryan recalls his childhood in New York during the 1930s as an idyllic time, full of art and music. He learned to draw, paint, and play instruments at school from artists and musicians participating in the Work Projects Administration program. With books he checked out of the library, Bryan made his own, temporary collection at home. He particularly enjoyed poetry, folktales, and fairy tales; stories that could be told within a brief span of pages.
Bryan attended the Cooper Union Art School, the only African-American student at that time to be awarded a scholarship. He had applied to other schools who had rejected him on the basis of race,but Cooper Union administered its scholarships in a blind test: "You put your work in a tray, sculpture, drawing, painting, and it was judged. They never saw you. If you met the requirements, tuition was free, and it still is to this day," explained Bryan