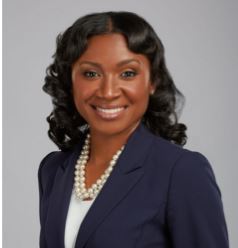 Fresh from her victory as the recently appointed Executive Vice President and Chief Operating Officer at Howard University, Dr. Tashni-Ann Dubroy, currently President of Shaw University, has been named Female President of the Year by the HBCU Digest. She will take up her new position at Howard in October 2017.
"I am greatly humbled and honored to be receiving this award," said Dr. Dubroy. "I offer my sincerest gratitude to the HBCU Digest and its founding editor, Mr. Jarrett Carter, as well as the awards committee."
From her arrival in the USA as a 17-year old immigrant from Jamaica to her current position at Shaw as one of the country's youngest college leaders, Dr. Dubroy's career in academia has been on a consistent and shining ascent. Her personal story is a lesson in dedication, persistence and a fierce will to overcome adversity.
"My mother left our home when I was 13 years old," Dr. Dubroy explains. "She said I'm going to the USA to make a better life for our family.  I didn't see her for two years but she paved the way for me to join her and continue my education.  My childhood was quite unique.  Even though my parents didn't have a college education, once they sparked a hunger in me for excellence and a can-do spirit, they knew I would take flight.  It was a blessing to have such parents who believed in me."
Appointed as Shaw's President in August 2015, Dr. Dubroy helped to revitalize her Alma Mater's campus operations, budget performance and enrollment.  She is credited with the university's first enrollment increase in six years and closing a $4 million fundraising gap, including $630,000 — the single largest total ever raised in an alumni event.
Dr. Dubroy's emphasis on fiscal conservatism and process optimization helped the university to develop several key campus initiatives, including the termination of a three-year salary reduction program, investments in long-deferred facility projects and the establishment of recruitment bolstering initiatives.
"We are proud of her energetic, inclusive and refreshing leadership," says Shaw's Board Chairman Dr. Joe Bell, "and the manner in which she led our institution to surpass goals in student enrollment, fundraising and cost control. We wish her all the best in the next phase of her professional journey."
"I thank the Shaw University Board of Trustees for their faith in me, who interviewed a 34-year-old woman with a Jamaican accent, who had no experiential proof that she could do the job as president," says Dr. Dubroy, "…but who walked into the interview with a bold vision, dressed in a navy blue pant suit and pearls, and they hired me!"