ALPFA CEO Charles P. Garcia elected to the National Board of Directors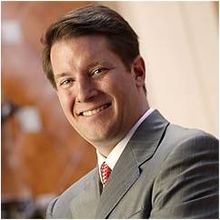 The Girl Scouts of the USA launched a national partnership with the Association of Latino Professionals for America (ALPFA) at its 54th National Convention.  Effective today, ALPFA CEO Charles P. Garcia was elected as a member of the National Board of Directors of the Girl Scouts of the USA (GSUSA). The voting took place at the National Council Session where 1058 delegates representing over 100 Girl Scout Councils cast votes individually for each nominee.
The ALPFA partnership is a major milestone in the GSUSA strategy to reach girls in underserved communities across the country.  ALPFA is educating all its members, especially fathers on the value of GSUSA for their daughters, and encouraging all their Latina members to become troop leaders to sharpen their own leadership skills. ALPFA is the organization's first partner chosen in the new initiative launched by CEO Sylvia Acevedo. The pilot program will launch this fall in eleven Girl Scouts councils across the country.
"Charlie and I have a passion to open the doors of opportunity to all our youth, and especially girls, so they have the skills and mindset to unleash their full potential. We know that Latino community is very driven to help the next generation and that's formed a great connection between ALPFA and the Girl Scouts. We are delighted to now have Charlie join our national board to bring his experience to empower every G.I.R.L. (Go-getter, Innovator, Risk-taker, Leader)™ to change the world," Acevedo said.
Garcia's election is for a three-year term, making him one of only four men on the 30-member National Board of Directors of the GSUSA.  He was also elected to serve on the independent 7-member National Board Development Committee (NBDC) which serves as a traditional nominating committee and oversees the National Board's development and effectiveness including establishing procedures to evaluate the Board, its committees, and its members. This role is critical as the organization continues to expand its outreach to underserved communities.
"I am honored to be elected to the Girl Scouts USA National board and the NBDC. I'm especially proud the Girl Scouts chose ALPFA to be the first national non-profit organization to assist them to reach underserved Latina girls and our members to act as troop leaders in local communities," said Garcia. "The Girl Scouts inspired my daughter to pursue a STEM career and helped her earn a large scholarship to one of our country's top universities, and I would like all girls to have that opportunity too."
Garcia is a renowned entrepreneur, best-selling author and decorated military veteran who has served four former Presidents of the United States, both Democratic and Republican.  He currently serves on the National Board of Junior Achievement USA working with youth on entrepreneurship, financial literacy and work readiness. Garcia previously served as the Chairman of the U.S. Air Force Board of Visitors, and on the Florida State Board of Education.