Goya Foods, America's largest Hispanic-owned food company, has partnered with renowned artist and one of South Florida's most vibrant artistic talents, Alexander Mijares. Goya commissioned Mijares to create a one-of-a-kind Goya "Can Sculpture" at the Perez Art Museum as part of Goya's "Pasión es Goya" campaign and PAMM's "Second Saturday" activations.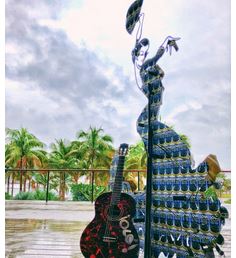 PAMM is a modern, contemporary art museum dedicated to collecting and exhibiting international art of the 20th and 21st centuries. Just like PAMM, Goya has been looking for ways to bring families together and at the same time help out the community through advancements in education and culture.  This is why Goya has partnered with PAMM to host "Free Second Saturdays," a day in which families can go to the museum and enjoy a variety of activities for free. Together, they have created hands-on activities and provided free Spanish tours, making sure that everyone in Miami's diverse population can enjoy a fun day with their families.
On December 9, 2017, Goya Foods unveiled the Goya "Can Sculpture" by Alexander Mijares. The sculpture consists of recycled Goya cans that were turned into a stunning work of art.  Goya also provided guests with a tasting of some of their products to be enjoyed while witnessing the unveiling.
"We are beyond excited to see the magic that Alexander Mijares has created with our Goya cans," said Cynthia Chipi, Marketing Director of Goya Foods of Florida. "The exhibition brings people together by combining a strong passion for both art and food."
The sculpture is now available for sale. Goya Foods will also be making a donation of Goya products to charity. The goal is to give back to the people who support Goya and to continue with their commitment to improve the communities where their customers and employees live.
For more information about Goya Foods, visit www.facebook.com/GoyaFoods, via Twitter @GoyaFoods, Instagram @GoyaFoods and using #GoodFoods.
Fans who want to follow Alexander Mijares online can do so via Twitter @Mijares and Instagram @Mijares.
About Goya Foods
Founded in 1936, Goya Foods, Inc. is America's largest Hispanic-owned food company and has established itself as the leader in Latin American food and condiments. Goya manufactures packaged foods and distributes more than 2,500 high-quality food products from the Caribbean, Mexico, Central and South America. For more information on Goya Foods, please visit www.goya.com.
About Alexander Mijares
Alexander Mijares has established himself as one of South Florida's most vibrant artistic talents. Miami-born and internationally acclaimed artist Alexander Mijares brings a colorful perspective and injects new life into the art world with a myriad of vibrant creations. A self-taught artist, Mijares finds inspiration in the dynamic energy of both the city of Miami and his Cuban and Spanish roots, to create culturally-rich pieces. His vision has been recognized both nationally and internationally by some of the most discerning art collectors across the globe. Mijares has also been recognized as the Top 10 Influential Artist of 2013 by Elite Daily and has been featured by Forbes as Top 10 Impressive Instagram Profiles to Follow. He has displayed several of his most-acclaimed pieces in New York City's Times Square, Nobu's former South Hampton outpost, at private events in Los Angeles and San Francisco as well as in several locations throughout Miami, including the Presidential Office at Florida International University. Recently, Mijares unveiled his work at the Nicklaus Children's Hospital, presenting his pieces installed in the psychology rooms. Additionally, Mijares has collaborated with Real Madrid for El Clásico by creating a 50 ft. mural. Mijares has also found inspiration in music: the rising artist collaborated with Pitbull during the 2014 World Cup, painted the iHeart Radio Station Studios, and has created custom pieces for artists like Justin Bieber, Tori Kelly, and Pharrell.