"Created Equal" chosen as an official selection of the American Black Film Festival. Presents intimate screening with filmmakers, cast and features a thought-provoking Q&A.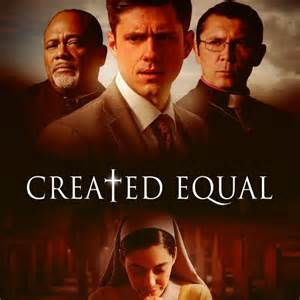 It's a wrap! #ABFF2017 was full of activity that kept festival-goers engaged, inspired and motivated to achieve dreams through a programming line-up chock full of workshops, master classes, red carpet experiences, screening events and more! One such screening event included the "World Premiere" of CREATED EQUAL – an independently produced legal thriller directed by legendary Hollywood actor/director, Bill Duke, who was joined by the film's producer, Thada Catalon (T-Cat Films); and cast members – double Emmy Award-winning actor, GregAlan Williams (Greenleaf); actor Yohance Myles (Shots Fired) and young actress, Camryn Jones. Both filmmakers and cast participated in a thought-provoking and engaging post-screening Q&A that explored the film's themes, its global impact and its expectations for social equality.
Created Equal tells the story of Alejandra "Allie" Batista (Edy Ganem), a nun who is desperate to become a priest in the Catholic Church. She turns to Thomas Reilly (Aaron Tveit), a successful lawyer who files suit against the Archdiocese of New Orleans for sex discrimination without justifiable cause. As Allie's case starts to make national headlines, both she and Tommy face serious backlash from the people in their lives. The trial unfolds and an extremist concocts a plot to stop the heresy against the church by attacking Alejandra and threatening to kill her if she doesn't back off.
The film also stars Broadway actor and singer Aaron Tveit (Grease Live!) Latina actress Edy Ganem (Devious Maids) and veteran actor Lou Diamond Phillips (Longmire), who did not attend, but showed their support of their cast members at the ABFF premiere on social media.
Based on the novel, Created Equal, written by Roger A. Brown, who also serves as Executive Producer, the script was written by Ned Bowman, Michael Ricigliano Jr., and Joyce Renee Lewis. The film was produced by Thada Catalon of T-Cat Films.
In a world where gender equality remains a critical issue, this controversial film, certainly lives up to its intent, as it sparks a worldwide conversation that explores the disparity between men and women holding the highest leadership positions within the church, as well as other positions that hold the greatest authority in the world.
For more information on Created Equal, visit www.CreatedEqualMovie.com.