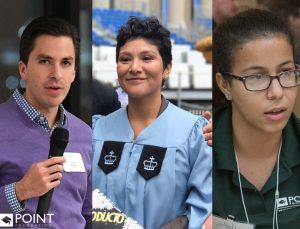 Point Foundation Accepting Applications Beginning November 1
Lesbian, gay, bisexual, transgender, and queer (LGBTQ) students enrolling in undergraduate or graduate programs for the 2019-2020 academic year are encouraged to apply online for a Point Foundation Scholarship. Point Foundation (Point) is the nation's largest scholarship-granting organization for LGBTQ students of merit and currently is providing financial assistance and programmatic support to 97 students.
Applications open online November 1, 2018 at www.pointfoundation.org/apply
Students may submit their application until 11:59 p.m. PST January 28, 2019.
A short application information video is available online.
According to a survey by StudentLoanHero.com, LGBTQ students accrue $16,000 more debt on average than their heterosexual peers. Moreover, nearly a third of LGBTQ students report being discriminated against because of their gender identity or sexual orientation when seeking financial assistance for higher education. Recognizing that LGBTQ students face distinct financial disadvantages and marginalization, Point Foundation provides its scholarship recipients with mentoring and leadership development training as well as financial support.
"Despite the constant attacks on our community, our LGBTQ young people are eager to develop the skills they need to fight back against discrimination and become the leaders our country so desperately needs," said Jorge Valencia, Executive Director & Chief Executive Officer of Point Foundation. "These students' determination to create an equitable society that values and celebrates diversity needs to be – and can be – realized with our support."
To receive a Point Foundation Scholarship, candidates must demonstrate academic excellence, leadership skills, community involvement, and financial need. Attention is given to applicants who have experienced marginalization and/or are working to improve the lives of marginalized groups, particularly the LGBTQ community.