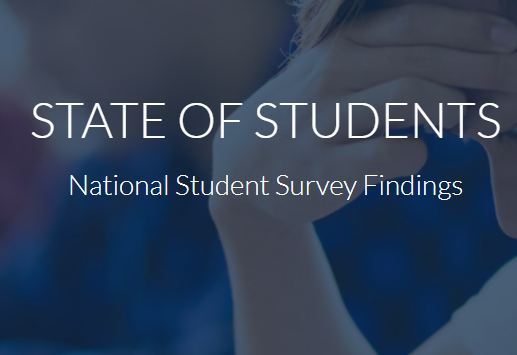 National survey of 1,545 students suggests that challenges beyond the classroom impede student confidence and create barriers to completion
Civitas Learning, today, released the results of a national survey conducted in partnership with the Center for Generational Kinetics, a leading Millennial and Gen Z research firm that asked a cross-section of both traditional and adult learners about their educational experiences, needs and aspirations. According to the data, one quarter of students, across all categories, expressed concerns about their ability to graduate.
"The next wave of student success initiatives must grapple with an inescapable reality: today's students are as likely to be derailed by life and logistical challenges—balancing working and learning, childcare, food and shelter—as they are by academics," said Dr. Mark David Milliron, Co-Founder and Chief Learning Officer of Civitas Learning. "If we want more students to succeed, we need to continue listening and develop systems, strategies, and messaging that is more responsive to their needs."
The survey found that anxiety and time management were students' greatest challenges. Additional challenges varied across age group. For example, 30% of Gen Z students reported that study skills are one of the biggest obstacles to degree completion, while only 22% of Millennial students saw that as a top challenge. 35% of Millennial students cited being overwhelmed by responsibilities as one of their most significant challenges, while just a quarter of younger Gen Z students were concerned about diverse responsibilities.
The survey also found that an overwhelming majority of college students feel most confident turning to an academic advisor (compared to friends, family, or other college staff) for help, with 70% citing that "about once per month" or more is the optimal cadence for communication with the advisor. Yet, it's been six months or longer since 24% of respondents met with their advisor, with 3% never having met with one. The survey also revealed additional insights:
Nearly one in five students report that it would be difficult or very difficult to meet with an advisor to get help with an urgent issue.
48% of Gen Z students and 63% of Millennial students want options to communicate with advisors via email, texting, video conference, apps or social media channels.
30% of students ranked having an advisor that better knows their current situation at the top of their advisor wish list, and 27% of students ranked having an advisor that proactively reaches out to coach or support them rather than passively waiting for them to make an appointment.
"Research shows that Millennials and Generation Z expect personalization, in all aspects of their life. We heard from students in the survey, that higher ed is no exception," said Dr. Denise Villa, CEO of the Center for Generational Kinetics and a former educator. "As a former first- generation college student and educator, I believe these findings offer helpful insights into the challenges students are facing, and the kind of support they believe will help them be more successful and confident."
To ensure responses that are representative of the experience of today's college students, the survey's sample includes a diverse mix of students with 59% of respondents being students age 24 and under and 41% students that are 25 or older, 37% male students and 63% female students, a near even amount of students enrolled at two year and four year institutions, 50% on-campus only students and 50% students that take at least one online class, and 44% white students, 25% African American students, 22% Hispanic students, and 6% Asian students.
This is the first survey release in a series on student perspectives, conducted by the Center for Generational Kinetic in partnership with Civitas Learning. Additional information on the findings and student research, including a recent conversation with Dr. Mark Milliron and Amelia Parnell, NASPA Vice President for Research and Policy, can be accessed here: https://go.civitaslearning.com/l/481481/2018-06-25/rxhyv.
About Civitas Learning: Civitas Learning partners with universities and colleges dedicated to helping more students learn well and finish strong. We provide tools and services for educators that bring together and make the most of their diverse and disconnected data streams; personalize information and support for their students; and deepen understanding of the impact of their student-success initiatives. Through our work together, our partners are empowering leaders, advisors, faculty, & students—and measurably improving enrollment, persistence, and graduation outcomes.
Today, Civitas Learning is a strategic partner to more than 350 colleges and universities, serving nearly 8 million students. Together with our growing community of partners, Civitas Learning is making the most of the world's learning data to graduate a million more students per year by 2025. For more information, visit: www.civitaslearning.com.