India's Love Sonia Will Open the Festival On October 24 China's In Harm's Way Will Close the Festival On November 1
Actresses Freida Pinto, Lisa Lu And Awkwafina To Be Honored
The fourth Annual Asian World Film Festival asianworldfilmfest.org (AWFF) has selected India's Golden Globes foreign language contender Love Sonia as the Festival's opening night film on October 24.  China's In Harm's Way will be the closing night film on November 1. The centerpiece film will be Burning, South Korea's current Oscar® contender. All films will be screened at the Arclight Cinema in Downtown Culver City (9500 Culver Blvd.)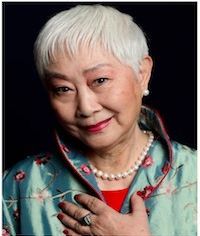 Shown in the photo is Lisa Lu (Crazy Asians)
The Courage to Dream Award will go to actress Freida Pinto, who stars in the opening night film Love Sonia. She is known for her leading role in Slumdog Millionaire.
The Snow Leopard Lifetime Achievement Award will be presented to Lisa Lu who has been making movies for 60 years, including The Joy Luck Club, The Last Emperor and this year's smash hit Crazy Rich Asians.  The Snow Leopard Rising Star Awardgoes to Awkwafina, whose outlandish character was the scene stealer in Crazy Rich Asians.
A special tribute will be made celebrating the 90th anniversary of Sovet/Krgyz author and statesman, Chingyz Aitmatov. He is known for such films as Pervyy uchitel (1965), The Girl with the Red Scarf (1977) and Jamila (1994). His literary works have been translated into more than 20 languages. After the collapse of the Soviet Union in 1991, Aitmatov's novels found a new audience in the West and gained popularity in Germany.
Love Sonia is inspired by real events and is the story of a young girl's journey to rescue her sister from the dangerous world of international sex trafficking. The film was directed by Tabrez Noorani, produced by Academy Award Nominated Producer of Life of Pi, David Womark, and stars Mrunal Thakur (who plays Sonia), Richa Chad, Freida Pinto, Mark Duplass, Demi Moore and San Tamankar. Pinto, Thakur and Duplass are scheduled to attend the festival's opening night.
The USA premiere of In Harm's Way tells the story of what happened to one young American pilot who was forced to bail out near the coast of China after a bombing raid on Tokyo following Japan's attack on Pearl Harbor in the 1940s. He is saved by a young local widow who risks her life as she hides the injured American pilot in her house. Two-time Cannes Palme d'Or winner Bille August directed and Emile Hirsch and Crystal Yifei Liu star. The film will be released theatrically in the U.S. on November 2.
Burning tells the story of Jong-su, a part-time worker, who bumps into an old friend, Hai-mi who asks him to look after her cat while she's on a trip to Africa. When Hai-mi returns, she introduces Ben, a mysterious man she met in Africa.  One day, Ben visits Jong-su's with Hai-mi and confesses his own secret hobby. The film was directed by Chang-dong Lee and stars Ah-In Yoo, Jong-seo Jeon and Steven Yeun.
The festival's 2018 theme is female empowerment and the role and growing professional influence of women in the Asian region film industry. Roza Otunbayeva, former president of Kyrgyzstan will attend. She is the first woman to be a nation's president in Central Asia.
Friday, October 26 will be a day of panel discussions, starting at 10 a.m. with a panel on "Streaming: The Future of Global Entertainment." This will be followed by "Asia – Hollywood" in which panelists will discuss the changing Asian film scene with the growing economies of India, Korea and Southeast Asia. The afternoon panels will start with a panel of directors attending this year's festival. This will be followed by "Women in Asian Film" and finally a discussion on "Blockchain," a new way of entertainment financing which has taken off in Asia. The Asian World Industry Forum reception will be held in the evening.
Festival director Georges N. Chamchoum said: "I am thrilled that this year our Festival revolves around Women – from our respected Honorees, to both the Opening and Closing Movies which are centered around strong female characters. I have always believed in the artistic power, creativity and leadership demonstrated by women. My whole life has been "woven" by women – therefore, what could be more fitting than this wonderful tribute at AWFF 2018."