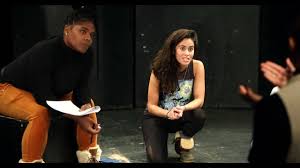 The Fire This Time Festival, the destination for early career and emerging playwrights from the African diaspora, announces its 2020 dates. The 14-day festival, presented in collaboration with FRIGID New York, which annually honors Dr. Martin Luther King, Jr. will take place from January 20 to February 2, 2020. This year, seven commissioned dramatists will be presented in repertoire as part of the annual celebration held at the Kraine Theater in the East Village.
The featured playwrights — Cyrus Aaron, Niccolo Aeed, Natyna Bean, Tyler English-Beckwith, Jay Mazyck, Deneen Reynolds-Knott, and Mario (Mars) Wolfe — in TFTT's signature ten-minute play program wrestle with the pressing social issues that Black and brown communities have grappled with for decades. Some of the themes to be explored in January will include facing change as gentrification makes its way into a community; the psychological toll and skyrocketing costs of being a patient in the antepartum unit at a hospital in the U.S.; Afro-futurism and dystopia through the lens of environmental devastation; and, how we as a society benefit by affirming the lives Black trans women.
The OBIE award-winning company, founded by Kelley N. Girod is recognized as a springboard for Black playwrights, a destination for diverse audiences, producers and artists seeking new possibilities in contemporary theater. Girod further explains, "Building on the promise of the collective work we have steadfastly co-created, I am excited to focus on our organization's sustainability and development. To secure this smooth transition, joining our producing team is Julienne Hairston (an accomplished playwright and TFTT alum) who will work closely with TFTT producers Cezar Williams and A.J. Muhammad. Our track-record of identifying playwrights and presenting plays in developmental stages that have gone on to successful Off-Broadway, regional and international productions speaks for itself; and building upon the strides we have accomplished together for our playwrights and our community require my laser focused attention as executive director and executive producer. Development and sustainability with a concentration on fundraising will ensure the work of our next-gen playwrights can count on the The Fire This Time Festival as a secure launching pad for their careers and artistic advancement."
For more information on The Fire This Time Festival, visit: http://www.firethistimefestival.com/  or contact neyda.martinez@gmail.com.