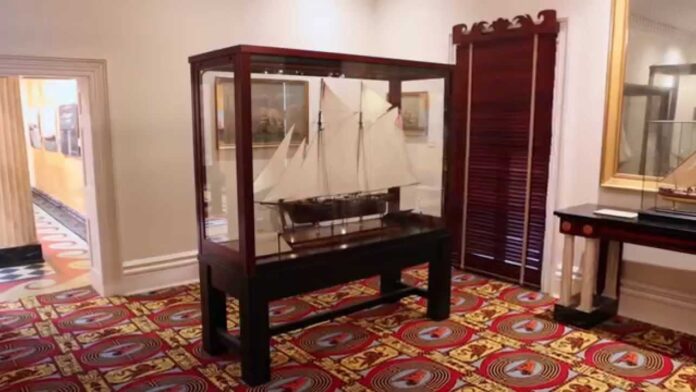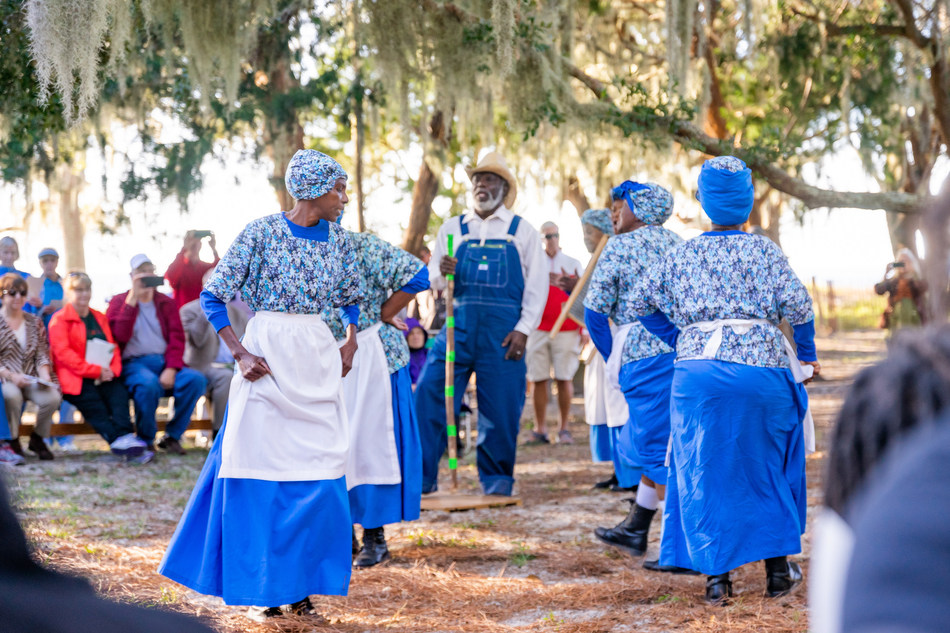 Trail of Interactive Exhibits on Jekyll Island Engages Visitors in Slavery-to-Freedom Journey of a "Wanderer " Survivor –
Located on the southern end of this Georgia barrier island, the Wanderer Memory Trail is nestled along the banks of the Jekyll River, near the point where the Wanderer illegally came ashore on Nov. 28, 1858, with more than 400 enslaved Africans on board. Shown in the photo: The Geechee Gullah Ring Shouters, from coastal Georgia, perform during ceremonies opening the new "Wanderer Memory Trail" on Jekyll Island. The Ring Shouters – entertainers who are all descendants of enslaved Africans brought to the U.S. – epitomize a vibrant culture that survivors of the slave ship Wanderer and other illegal slave ships fostered along America's Southeastern coast. Photo courtesy Jekyll Island Authority
The new trail walks visitors through the true story of Umwalla, a young African boy brought to America on that ship 160 years ago. Through a series of interactive exhibits along the trail, the pieces of Umwalla's journey – from capture to freedom – are unveiled.
The slave ship Wanderer originally was built as a stately and swift luxury yacht, which helped disguise its secret, illegal transport of enslaved Africans from West Africa to America. Physical changes had been made internally to the ship, so that hundreds of slaves could be callously packed into the vessel.
In October 1858 – a half-century after the United States Congress outlawed the importation of enslaved Africans – the Wanderer departed the coast of West Central Africa, bound for America with more than 500 enslaved Africans crowded inside the hold. The vessel was ill-equipped to carry so much human cargo, and the conditions on board were gruesome and dangerous.
About 100 of the slaves perished during the harrowing transatlantic voyage; their bodies were thrown overboard. Those who survived the ocean journey were unloaded at Jekyll Island and then sold across the South. The end of slavery would not be declared until the Emancipation Proclamation of Jan. 1, 1863.
"This trail is an important and poignant reminder of the conditions these enslaved people suffered through during their journey to the United States, and the unthinkable hardships they faced after they got here," said Dr. Deborah L. Mack, associate director, the Smithsonian Institution's Office of Strategic Partnerships, National Museum of African American History & Culture. "It also references their path to freedom and it vividly reminds us that despite the circumstances of their arrival, the dynamic culture these brave people brought to America continues to influence coastal Georgia and countless places beyond."
Another 'last vessel' in Alabama –
Another 'last vessel' to bring enslaved Africans
Ben Raines, a reporter for the Birmingham News, described his discovery of a shipwreck believed to be the last vessel to bring enslaved Africans to the U.S. nearly 160 years ago. https://www.youtube.com/watch?v=GrbgCGyPZ5c