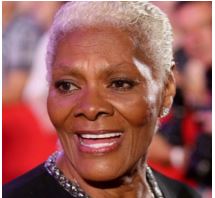 Contact: Jmdentertainmentgroup@yahoo.com
The JMD Holdings©LLC is pleased to announce a special guest appearance on July 29, 2020 on Janice McLean DeLoatch's radio show It's Janice! on Radio One, WOLB 1010. Baltimore Janice's special guest is Dionne Warwick " Dionne Warwick has one of the true signature voices in all of music. As her voice has enchanted us for over fifty years, so will her fascinating life story."
After teaming with renowned songwriters, Burt Bacharach and Hal David, her first
major release After teaming with renowned songwriters, Burt Bacharach and Hal
David, her first major release in 1962, "Don't Make Me Over" kicked off 18 more
consecutive Top 100 singles. A few of her chart-toppers include, "Walk on By,"
"Anyone Who Had a Heart," "Message to Michael," "Promises Promises," "A
House is Not a Home," "Alfie," "Say a Little Prayer," and "I'll Never Fall in Love
Again."
After 30 hits, and close to 20 best-selling albums with the team, she received
her first Grammy Award in 1968 for, "Do You Know the Way to San Jose?" and in a
series of trailblazing moments, she became the first African American female artist
to appear before the Queen of England at a Royal Command Performance. Her
second Grammy followed in 1970 for the best-selling album, "I'll Never Fall in Love
Again," with Warwick then becoming the first African-American solo female artist of
her generation to win the prestigious award for Best Contemporary Female Vocalist
Performance. Other songs such as the theme from "Valley of the Dolls," made her a
pioneering female artist in popularizing classic movie themes.
Janice McLean DeLoatch is extremely grateful for Ms Warwick taking her time to
grace It's Janice! Janice has also been involved in the music industry releasing her
first CD, "Don't Be a Hata" in 2004. One of the tracks was selected by the hit show, "The Wire" for season one. As a result Ms DeLoatch had a small role in the series. More recently Ms DeLoatch has taken in the songwriting and singer songwriter
awards policies that have effectively barred women from achieving parity and
recognition with male songwriters and singer/songwriters who are women and
women of color. The impact is that many women who write the songs we recognize
and love best rarely achieve recognition and the accolades not to mention money
that goes with such an honor is lost. Hence the need for The Women Songwriters
Hall if FameTM
FOR FURTHER INFORMATION PLEASE CONTACT:
Mel Albin
Managing Partner
JMD Holdings©LLC
(914) 645-4274