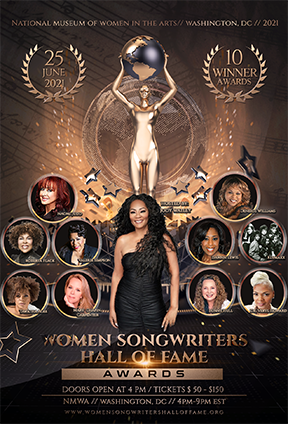 The historic awards show will help to culminate Black Music Month 2021 with great & gifted honorees
The Women Songwriters' Hall of Fame (WSHOF), founded to honor women whose body of work represents the best of the heritage and legacy of modern American music, will pay homage to ten noteworthy female songwriters on June 25, 2021.
This stellar event taking place at the opulent Museum of Women in the Arts in Washington, DC, will celebrate some of music's finest songwriters and composers in a magnificent moment to mark their careers and classic songs. The honorees bring an arsenal of artistry, along with hits covering the last five decades of popular music, to their induction.
Grammy award winning artist Jody Watley – known for both her solo hits ("Looking For A New Love", "Don't You Want Me") and smashes with Shalamar ("A Night To Remember", "This Is For The Lover In You") – is hosting this stellar event.

THE INDUCTEES
Roberta Flack, known for such giant gems as "Killing Me Softly (With His Song)" and "The First Time Ever I Saw Your Face," which made her the 1st artist in music history to win back-to-back Grammys for Song of The Year (only U2 and Billie Eilish have since joined her) composed "Be Real Black For Me" with Donny Hathaway and "And So It Goes" with Dr. Maya Angelou.
Singer/songwriter Valerie Simpson wrote and recorded hits for decades with husband and recording partner Nick Ashford, including "Ain't No Mountain High Enough (for Diana Ross and Marvin Gaye/Tammi Terrell)," "I'm Every Woman (Chaka Khan and later Whitney Houston)," and Ashford & Simpson's masterpiece "Solid," which became a worldwide, chart-topping smash hit. The duo was inducted into the Songwriters Hall of Fame in 2002. They are also recipients of The Rhythm & Blues Foundation's Pioneer Award, ASCAP Founders Award, and the Grammy Trustee Award. Rolling Stone ranked them No. 19 on its list of the 20 Greatest Duos of All Time.
Tawatha Agee, known to the world of soul music for her sultry vocals on the hits "Juicy Fruit" and "You, Me and He," with R&B/Funk/Jazz giant James Mtume, also composed songs for saxophonist Gary Bartz and co-wrote the Stephanie Mills/Teddy Pendergrass hit "Two Hearts". She's been described in The New York Times as an "acrobatic, gospel-charged soprano." Agee has worked consistently as a backing singer from the mid-1970s to the present day, predominantly with James Mtume, who produced her one solo album, Welcome to My Dream, for Epic Records in 1987. She is also a part of "the Lovely Ladies" trio, who tour with the Dave Matthews Band.
Mary Chapin Carpenter spent several years singing in Washington, D.C. clubs before signing in the late 1980s with Columbia Records, Carpenter's most successful album to date remains 1992's Come On Come On, which yielded seven charting country singles including the hit "He Thinks He'll Keep Her" and was certified quadruple platinum in the US for sales exceeding four million copies. She followed it with Stones in the Road (1994) and A Place in the World (1996). Carpenter has earned five Grammy Awards and is the only artist to have won four consecutive Grammy Awards for Best Female Country Vocal Performance, which she received from 1992 to 1995.
The all-female band Klymaxx is still going strong as their music is a staple on the radio and in dance clubs around the world. Belting out hits like, "The Men All Pause" and "Meeting in the Ladies Room" the group's name is synonymous with classic women's anthems. Their ballad "I Miss You", was one of Billboard's top songs of1986 and still to this day is played when love is in the air. Continuing into the 90's with the #4 R&B hit, "Good Love" followed their sultry Neo-Soul groove entitled, "Private Party" showed evident that they could flow with the changing music trends.
The songbird Deniece Williams with her sparkling soprano brought life and success to songs like "It's Gonna Take A Miracle" and the hit pop song from the movie 'Footloose' "Let's Hear It For The Boy," but she penned some of her most noted and revered songs including "Silly" as well as the most sampled and covered "Free." Williams has been described as "one of the great soul voices" by the BBC.

Jerry Keever "Bunny" Hull has written hit songs as well as racked up many years as a session singer on many recordings. Hull co-wrote "New Attitude", a hit for Patti Labelle, as well as the Top 10 smash, "Breakdance", for Irene Cara. She is a recipient of 20 Gold and Platinum Certifications, a Grammy Award for the soundtrack to "Beverly Hills Cop", an Emmy nomination, a GMA Dove Award, a BMI Performance Award, and multiple Parents' Choice Awards.

Apostle Veryl Howard, founder of Faith Management & Talent Casting is recognized as one of the most successful managers and promoters in the world of Christian and Gospel music. She was recently awarded the "Glitz Girl Power Award" along with Amara De Negra, Actress Lisa Raye and many more. She is also recently received the "Shout the Alarm Award" by Preach the Word Worldwide TV Network and the Golden Image Award by Urban Café TV. She serves as a spokesperson for "Preach the Word World Wide TV Network" and is affiliated with several networks in addition to casting guests for five radio stations.
Country music icon Naomi Judd hails from the Appalachian foothills of Ashland, KY. Recording with her daughter Wynonna as the Judds they became one of the best-selling duos of all time. For the rest of the 1980's, each single they released made the Billboard Top 10 Country charts with 14 hits going all the way to number one, including "Mama He's Crazy", "Grandpa, Tell Me About The Good Ol' Days" and :"Love Will Build A Bridge".. The Judds swept the CMA's Vocal Group/Duo category from 1985 to 1991 and garnered six GRAMMY® Awards.
Actress/songwriter Dawnn Lewis is best known for her role as Jaleesa Vinson–Taylor on the NBC television sitcom A Different World from the series beginning in 1987 until the end of its fifth season in 1992, in addition to being on the show; Lewis co–wrote the theme song. This song has been used and reused over the last 30 years by TV Parodies, organizations, universities, youth groups & international fans to create their own version of the ADW opening credits, and to inspire people to "Focus On Our Goals ", toward their most successful futures.
With these inductees, the Women Songwriters Hall of Fame commemorates and acknowledges the female songwriter, who has gone remarkably unrewarded by the music industry that should be lauding and applauding these trailblazers.
The event will be executive produced by Janice McLean DeLoatch, founder of WSHOF, who is a noted songwriter, author and TV/radio personality in her own right. The WSHOF not only celebrates these established women songwriters but also serves as a resource for developing new songwriting talent through workshops, showcases and scholarships.
The Women Songwriters Hall of Fame came into existence to salute these women and many others whose talents stand solidly beside their male counterparts, but whose acknowledgement is so lacking that Billboard and even fashion magazines have done feature stories on the subject.
On June 25th 2021 – at The Museum of Women in the Arts – that all changes, forever.
Website – www.womensongwritershalloffame.org
For inquiries, contact Angelo Ellerbee of Double XXposure Media: angelo@dxxnyc.com