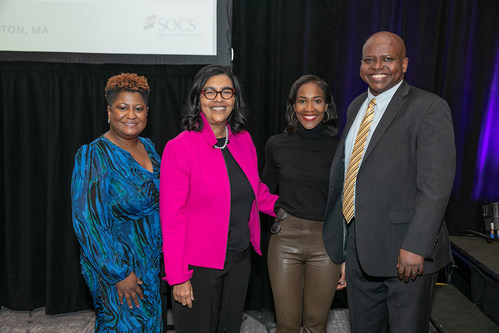 High-interest presentations covered AI in Dermatology, Dermoscopy in Scarring Alopecia, Physician Leadership in Advancing Equity, Aesthetics in Skin of Color, Keloids, Pigmentary Disorders, Diagnostic Bias and other topics relevant to patients of color
CHICAGO, April 13, 2022 /PRNewswire/ — The Skin of Color Society, (SOCS), the world's leading professional organization dedicated to advancing skin of color dermatology through research, education, mentorship and advocacy, successfully presented its 18th Annual Scientific Symposium to a record number of attendees on March 24, 2022, held in conjunction with the American Academy of Dermatology's Annual Meeting in Boston, Massachusetts.
This year's SOCS Scientific Symposium was co-chaired by Andrew Alexis, MD, MPH, FAAD, Professor of Clinical Dermatology, Vice-Chair for Diversity and Inclusion, Department of Dermatology, Weill Cornell Medicine, and Ginette A. Okoye, MD, FAAD, Professor and Chair of Dermatology, Howard University College of Medicine. Themed "Diversity in Action: Science, Healthcare & Society," the Symposium kicked off the Society's year-long theme for programming.
Representing 14 countries, the huge audience included physicians with an interest in skin of color, dermatology residents, fellows, medical students, researchers and industry professionals, who gained insights from invited speakers, interactive panels, oral abstract presentations and iPosters.