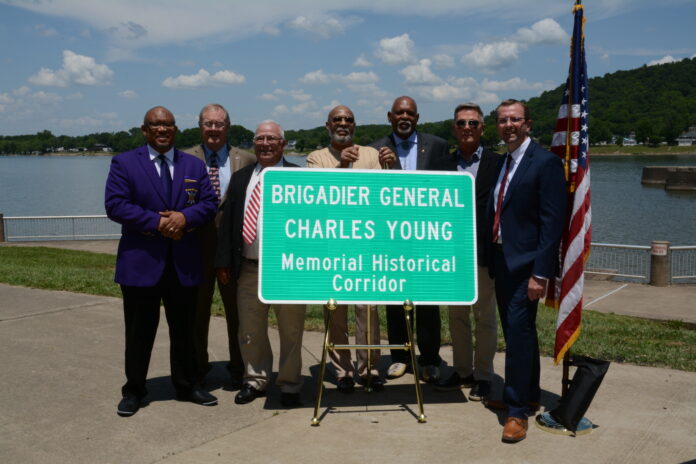 Officials join veterans to honor pioneering African American military hero from Mays Lick
Contact:

Crystal Staley

502-545-3714

Scottie Ellis

502-330-1722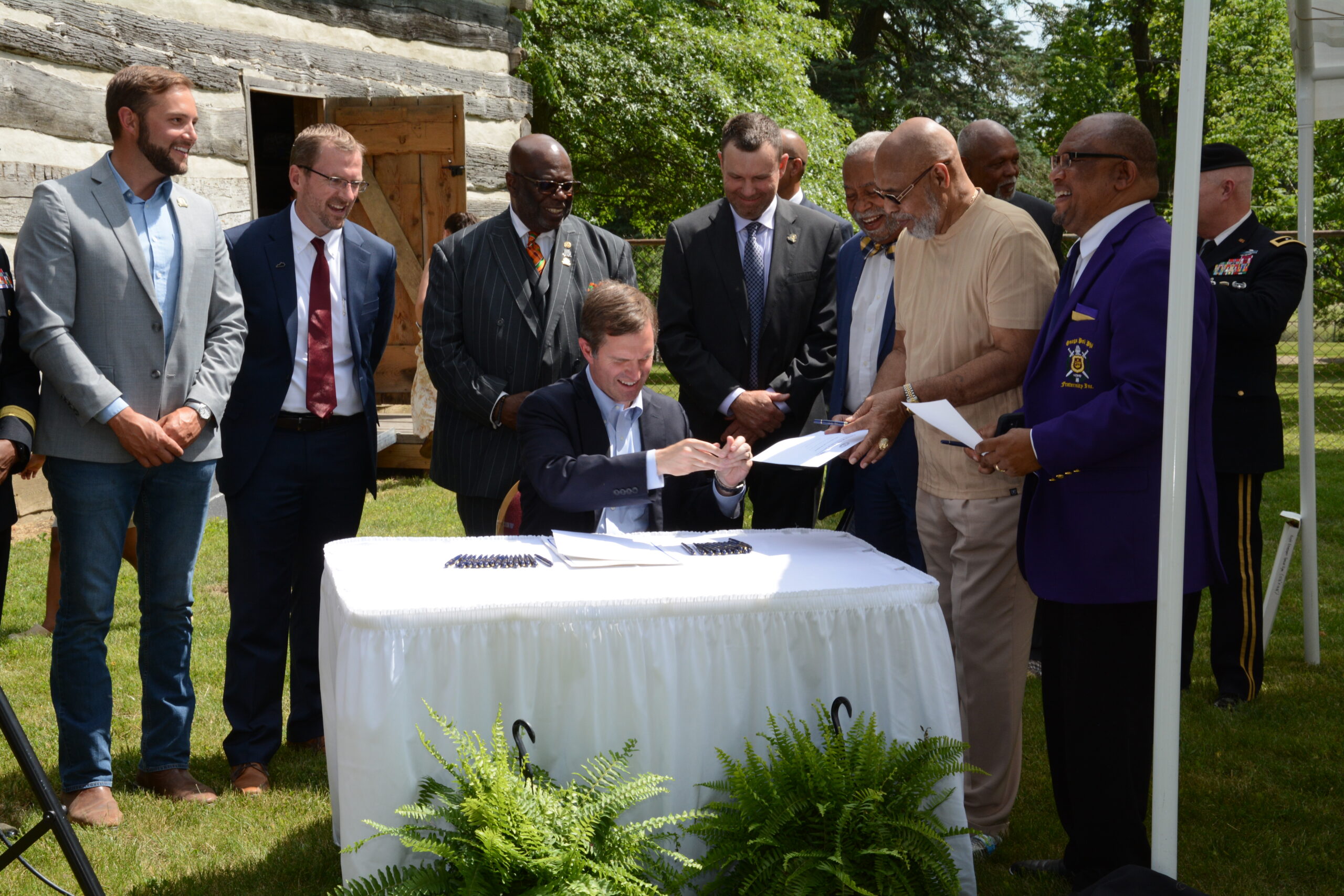 MAYS LICK, Ky. (June 3, 2023) – Today, Gov. Andy Beshear joined veterans, state and local officials to designate the route from Camp Nelson in Jessamine County to the Kentucky/Ohio border at Mays Lick as the Brigadier General Charles Young Memorial Historical Corridor.
Gov. Beshear said the corridor designation was established after he signed Senate Joint Resolution 58, sponsored by Sen. Stephen West of Paris and Sen. Gerald Neal of Louisville.
"Today, we're taking yet another step to make sure this hero is celebrated and honored for generations to come right here in his home state of Kentucky," Gov. Beshear said. "To his descendants and to the many people he has inspired, I hope there is some comfort in the fact that 100 years after he left this world, we are still speaking his name, still celebrating his incredible contributions to our country and still working to give this American hero, patriot and renaissance man his due."
The legislation also directs that the corridor be denoted with signage and that the state work to promote its historical, military and cultural significance. In addition, leaders are to work with their counterparts in Ohio to promote the corridor as a regional attraction.
Charles Young was born in Mays Lick, Kentucky, to enslaved parents in 1864. He valued education throughout his life and graduated with honors from high school in Ohio, where his parents escaped slavery.
Young taught elementary school and eventually entered the U.S. Military Academy in West Point, New York, where he was its third Black graduate. He went on to become the first Black military attaché to a foreign country and served in various assignments from Haiti and Liberia to Mexico and Nigeria. When he was medically discharged from active duty, Col. Young was the highest-ranking Black officer in the military, having been promoted to colonel.
Following his death, Col. Young was given full military honors and burial in Arlington National Cemetery, a reminder to Americans of his legacy as a leader, his perseverance despite obstacles and his heroic example to others.
"Gov. Beshear brought four decades of advocacy to a successful conclusion in 2022, when his state promotion of Young to Brigadier General was federalized by President Joe Biden," said Charles Blatcher III, National Minority Military Museum Foundation founder/CEO and chairman of the National Coalition of Black Veteran Organizations. "Now, I get to extend the invitation to the public to come explore the sites in the Brig. Gen. Charles Young Memorial Historical Corridor. The corridor highlights the wealth of Black history that lies between Kentucky and Ohio, and it is the punctuation mark behind the work that has gone into this phase of acknowledging Brig. Gen. Young in the region."
"The naming of the Charles Young Memorial corridor, a bill I co-sponsored with Senator Gerald Neal, honors an African American Brigadier General who served this country valiantly," Sen. Steve West said. "This honor further celebrates African American history in the Commonwealth and is a thoroughfare stretching from Jessamine County, through Mason County and up to Ohio, which will encourage travel and tourism through this region."
"As we dedicate the Brigadier General Charles Young Memorial Historical Corridor, we don't merely unveil a sign; we illuminate a pathway of historical recognition and rectification," Sen. Neal said. "This corridor pays tribute to an American hero, an emblem of our collective journey to honor our past, and an enduring reminder of the rich tapestry of history that binds Kentucky and Ohio. May this dedication serve as a beacon for future generations, inspiring them to uphold the values of diligence, dedication and determination embodied by Brig. Gen. Young."
"It means so much to see Kentucky honor Brig. Gen. Young, a true American hero who served his country as both a military leader and as a key figure in the battle for true equality," said Rep. George Brown Jr., who chairs the Kentucky Black Legislative Caucus. "Today's designation further illuminates Brig. Gen. Young's considerable legacy, which I am proud to say has been highlighted in my own House district through a park and a community center named after him. I hope these and other honorary designations lead to many more people learning about who he was and what he did for our nation."
"I want to commend Gov. Beshear for making this corridor a reality and elevating Brig. Gen. Young even more," said Kentucky House Minority Leader Derrick Graham, the first African American to lead a legislative caucus in the General Assembly. "Few Americans have achieved this kind of recognition, but there is no doubt that Brig. Gen. Young deserves to be on this short list."
"We're elated for creation and celebration of the Brigadier General Charles Young Memorial Corridor. The corridor underscores the authentic history that Maysville, Mason County and Northeastern Kentucky have, and we're convinced the corridor's creation will have positive implications on our tourism and economic development across the region," Mason County Judge/Executive Owen McNeill said. "As a Mason Countian, Charles Young lived an unbelievably impactful life, and the corridor is a fitting tribute to such a historical figure. We greatly appreciate everyone's efforts in the creation of the corridor."
For the complete agenda of today's program, click here.
In February 2020, Gov. Beshear posthumously promoted Col. Young to the honorary rank of brigadier general in the Commonwealth of Kentucky. In 2021, the Governor sent a letter to President Biden encouraging him likewise to promote Col. Young in the U.S. Army.
In a letter dated Nov. 1, 2021, Under Secretary of Defense Gilbert Cisneros Jr. informed the chairs of the U.S. House and Senate Armed Services committees of his decision to approve the request, and Secretary of the Army Christine Wormuth informed Charles Young's family of the promotion on Jan. 19, 2022.
On April 29, 2022, Undersecretary of the Army Gabe Camarillo hosted a posthumous honorary ceremony at the United States Military Academy at West Point promoting Young to brigadier general.
Gov. Beshear initially signed the state resolution on March 23, joined by Rodney Bennett of the Mason County Brigadier General Charles Young Cabin Committee, Justice and Public Safety Cabinet Deputy Secretary Keith Jackson, Buddy Gallenstein of Mason County, Judge McNeill and Blatcher.
Learn more about the life of Charles Young on the National Park Service website.
###