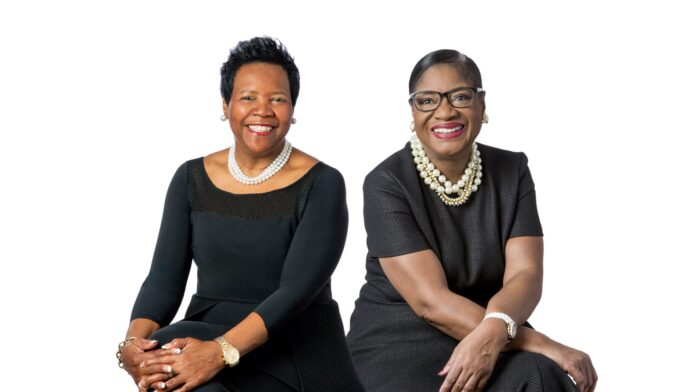 98Forward announces its milestone celebration of 25 years of providing award-winning services, unique expertise, and communication solutions provided through a lens of diversity, equity, and inclusion for its clients. Since its founding in 1998, 98Forward, the largest Black-owned full-service strategic public relations and communications agency in Michigan, has worked with an array of companies, nonprofits, individuals, and more across the region to help them authentically connect with audiences and best tell their story.
The agency originally founded by Georgella Muirhead and the late Bob Berg as Berg Muirhead and Associates has grown to be one of the region's leading public relations agencies. The agency has executed communications campaigns tailored to meet the needs of more than 150 clients from a diverse group of industries. In 2016, Muirhead and Berg passed the torch onto Marilyn Horn, 98Forward's current owner, president and CFO, and her former business partner. Muirhead has remained engaged with the agency.
"We are thrilled to be celebrating 25 years of delivering one-of-a-kind strategic communications solutions that help our clients tell their stories, reach the right audiences, and make a lasting impact," said Georgella Muirhead, Founder and CEO of 98Forward Public Relations. "Our team of experienced professionals is committed to helping our clients achieve their goals. We look forward to continuing to provide top-notch PR services in the years to come." 
During the past quarter-century, 98Forward has thrived as a woman- and minority-owned company and currently holds the following certifications:
Woman-Owned Business Enterprise (WBE)
Minority-Owned Business Enterprise (MBE)
Disadvantaged Business Enterprise (DBE)
Michigan Minority Supplier Development Council (MMSDC) Certified Business
Detroit Based Business (DBB)
Detroit Headquartered Business (DHB)
Detroit Small Business (DSB)
"We are so thankful to our clients, media colleagues, and industry partners for their trust and support over the last 25 years—and forever grateful to our past and present team members," said Marilyn Horn, president and CFO of 98Forward. "We're honored and understand that one of our greatest assets is maintaining a diverse team of like-minded and highly skilled professionals dedicated to understanding our clients' industries and providing creative, results-driven communications, public relations, and marketing solutions. I can't wait to see what the next 25 years have in store."
To celebrate its 25th anniversary, 98Forward Public Relations will take part in 25 acts of kindness throughout the year to give back to communities in Detroit which that has been the agency's home since the beginning.
To set up a conversation about public relations, marketing and communications services, call 313-872-2202 or email hello@98forward.com.
For more information about 98Forward Public Relations and its services, please visit 98Forward.com. 
 About 98Forward
98Forward, Michigan's largest Black-owned public relations agency headquartered in Detroit, executes strategic communication campaigns that resonate with our clients' industries, stakeholders and their target audiences. We are respected for our skill and integrity and are dedicated to our clients and our community. As an award-winning agency with a legacy of excellence, we have worked with more than 150 clients in a wide range of industries, including government, transit, health care, education, nonprofit, cultural, technology, law, retail, entertainment, manufacturing, hospitality, real estate development and insurance.