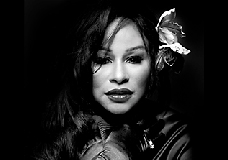 The Apollo Theater, a leading not-for-profit performing arts institution and one of the nation's greatest cultural treasures, announced that its 8th Annual Spring Gala Concert will induct Chaka Khan into the Apollo Legends Hall of Fame on Monday, June 10, 2013 in celebration of Ms. Khan's 40th anniversary in the music business. This year's program will include special tribute performances to the legendary singer by Apollo Legend Patti LaBelle and the incomparable Mary J. Blige.
Proceeds from the Spring Gala support the Apollo's year-round world-class performing arts events, innovative education initiatives, and meaningful community programs, which honor the influence and advance the contributions of African-American artists and emerging creative voices.
Chaka Khan joins past Apollo Legends Hall of Fame inductees—all legendary musicians, artists, and entertainers whose paths to fame included the Apollo—Stevie Wonder, Michael Jackson, Aretha Franklin, Quincy Jones, Patti LaBelle, Smokey Robinson, James Brown, Gladys Knight and the Pips, Little Richard, and Ella Fitzgerald. Each Apollo Legends Hall of Fame inductee is honored with a plaque in the Apollo Walk of Fame, installed under the Theater's iconic marquee on 125th Street.
For the full story and ticket information, go to www.harlemworldmag.com