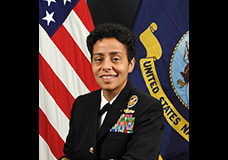 The NAACP will bestow the Chairman's Award during the 44th NAACP Image Awards to US Navy Vice Admiral Michelle Howard—the first African American woman to achieve three star rank in the military and first to command a US Navy ship. She was the first woman graduate of the US Naval Academy to be selected for Admiral. Currently she serves as Deputy Commander United States Fleet Forces Command and Director Combined Joint Operations From the Sea Centre of Excellence.
The Vice Admiral had this to say about her NAACP honor: "I am sincerely touched and honored that the NAACP would choose to recognize me with the Chairman's Award. I have been privileged to serve with our nation's sons and daughters who remain my greatest inspiration. NAACP Image Awards remind us that even when we can't find role models who look like us, television and the movies allow us to dream and believe that anything is possible."
The prestigious Chairman's Award has been given to the crème de la crème of presidents, entertainers and public servants—past awardees include then-Senator Barack Obama, former Vice President Al Gore and entertainer/activists Aretha Franklin, Bono, Tyler Perry and Danny Glover. NAACP Chairman Roslyn M. Brock will present this year's award to the Vice Admiral during the live broadcast on NBC, Friday, February 1, 2013.
Chairman Brock had this to say about the designee of the award that recognizes "special achievement and distinguished public service: "Vice Admiral Howard is an inspiration for me and women of color across our country. Her service and achievements as a top-ranking officer in the U.S. Navy have paved the way for girls and young women to know their dreams can become their reality."