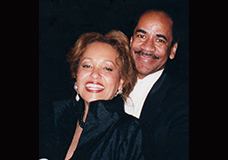 For the 15th year, Long Island University Brooklyn will play host to the Reel Sisters of the Diaspora Film Festival, an exciting two-day (October 13-14) showcase of cinematic works by women of color. The venue is LIU Brooklyn's Kumble Theater for the Performing Arts, located on Flatbush Avenue between DeKalb Avenue and Willoughby Street.
Honorees at this year's festival include pioneering actor-producer couple Tim Reid and Daphne Maxwell Reid, founders of New Millennium Studios, and veteran casting director Winsome Sinclair, founder of Winsome Sinclair and Associates and co-founder of Legacy Media Group. The festival will also include a tribute to Blackside Inc., producers of "Eyes on the Prize" and "Malcolm X: Make It Plain" and other powerhouse documentaries. Emmy Award-winning producer and Columbia University professor June Cross will moderate a panel discussion.
Among the films being screened this year are "Salay," in which a young woman desperate for an education may have to leave her father and village in Sierra Leone; "White Sugar in a Black Pot," about a mother forced to make a difficult decision; and "The Future Wags of Great Britain," about two sisters who form a plan to get money from insider football tips.
Documentary entries include "The First Lady of Little Rock: Daisy Bates," about the controversial Black Civil Rights activist; "Hubble Diverse Universe," profiling African- and Hispanic-American astrophysicists; "The Cut," following a teen about to endure a rite of female circumcision in Kenya; and "Why Do You Have Black Dolls?," which introduces a community of little-known Black-doll enthusiasts.
This year's festival offers two professional opportunities: One is a master editing workshop for emerging filmmakers with Peabody Award-winning editor and Blackside producer Sam Pollard ("When the Levees Broke," "Four Little Girls"). The other is the opportunity to chat with Tim Reid and his wife, Daphne Maxwell Reid.
Every once in a while, Reel Sisters welcomes an important film not made by a woman of color. This year, the festival presents Byron Hurt's award-winning PBS documentary, "Soul Food Junkies," in which Hurt sets out to learn about this rich culinary tradition and its relevance to Black cultural identity.
For schedule, descriptions and workshop registration, visit kumbletheater.org or call (718) 488-1624; or reelsisters.org or call (347) 534-3304. A two-day pass is $25, a one-day pass is $15, and a section pass is $7, with discounts for seniors, students and groups. "Soul Food Junkie" takes place on Sunday, Oct. 14, 1 p.m. to 3 p.m., with registration at $35.
A Brooklyn-based film festival founded by African Voices magazine and LIU Brooklyn, the Reel Sisters of the Diaspora Film Festival is supported, in part, by Council Member Inez E. Dickens, 9th C.D., Councilmember Jumaane Williams, the New York City Council, New York State Council on the Arts, New York City Dept. of Cultural Affairs, Brooklyn ALOFT, Akila Worksongs and Brooklyn Arts Council.
For more information, contact LIU Brooklyn alumna Carolyn Butts at (212) 865-2982 or Maitefa Angaza at (347) 661-7258.