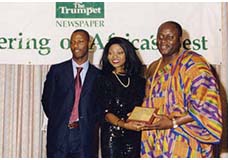 The GAB Awards was founded in 1999 by The Trumpet newspaper (Britain's largest distributed Black newspaper) against the backdrop of huge negative publicity against Africans being orchestrated by the UK mainstream media, among others.
"Our firm belief is that African countries like other nations of the world have their bad eggs – but these bad eggs constitute a very insignificant percentage in relation to the numerous Africans who are changing and impacting lives positively around the world," said 'Femi Okutubo is founder and CEO of  the Trumpet GAB Awards. " It is therefore totally out of order and unacceptable to portray the vast number of Africans as fraudulent, lazy and benefit cheats – when we are excelling in areas including but not limited to: The Arts, Media, Banking and Finance, Architecture, Sport, Entertainment, Politics, International Relations, Health, Business, but to mention a few."
The GAB Awards is therefore a forum where the best of Africa and friends of Africa come together to network and showcase the very best that Africa has to offer. The event also rewards excellence within the community through the awards event.
The importance and high profile of the GAB Awards has been acknowledged by the Mayor of London. In 2007, the GAB Awards was celebrated as one of the programs of the Mayor's Black History Month Season. Past events have attracted the support and presence of numerous African missions and their Heads; Royalties; Celebrities from numerous areas of human endeavor; UK and African government officials and politicians; and Organizations with an interest in Africa; because of the lofty ideals the event represents.
For more information, go to www.gabawards.com.