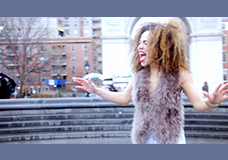 A group of students from the Clive Davis Institute of Recorded Music at the Tisch School of the Arts recently recorded  a version of Rihanna's popular song "Diamonds" for a contest and they were pleasantly surprised that their version garnered 30,000 views as of publication on YouTube. The students created the video for a competition organized by Universal Music on Campus. The record label asked college students to compose a video rendition of Rihanna's hit track. Check out this fabulous video on www.Unityfirst.com ( To view this video clip on an ipad device, click here)
The Clive Davis Department of Recorded Music is the first of its kind to provide professional business and artistic training toward a Bachelor of Fine Arts degree for aspiring creative entrepreneurs in the music industry. The Recorded Music B.F.A. undergraduate program is designed to provide professional training for students who aim to succeed as creative entrepreneurs in the music industry.
Over the years, Clive Davis, chief advisor to the department, has acquired a legendary reputation for spotting and developing new musical talent in the course of his 35 years in the recorded music industry. Successively head of Columbia Records, Arista, and, most recently, J Records, Mr. Davis has signed and nurtured such performers as Janice Joplin; Blood, Sweat and Tears; Santana; Aretha Franklin; Billy Joel; Bruce Springsteen; Pink Floyd; Aerosmith; Whitney Houston; and Alicia Keys.