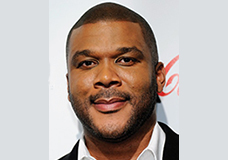 The film,  which is based on Tyler Perry's beloved stage play of the same name, marks the prolific filmmaker and multi-media tycoon's 13th feature film production with Lionsgate in seven years.  The film is currently shooting in Atlanta, Georgia, at the filmmaker's own 200,000 square foot studio compound Tyler Perry Studios.  The cast includes: Jurnee Smollett, Lance Gross, Robbie Jones, Vanessa Williams, Kim Kardashian, Brandy Norwood, Ella Joyce, and Jerry Stiller . Shown in the photo are: Judith (Jurnee Smollett-Bell) with Harley (Robbie Jones). (To view this video clip on an ipad device, click here)
Jurnee Smollett ("Friday Night Lights", EVE'S BAYOU, THE GREAT DEBATERS) plays the central character in the film.  Her character is caught between Lance Gross (MEET THE BROWN'S, OUR FAMILY WEDDING, "House Of Payne") and Robbie Jones (HURRICAINE SEASON, "One Tree Hill").  Smollett's Judith is an Ivy League educated relationship expert who gives marital advice for a living, yet can't seem to follow that advice in her own marriage to Bryce (Gross).  Bored with her life, she breaks her professional code and begins an affair with a smooth talking client (Jones).  After the initial excitement of their torrid relationship wears off, Judith realizes that she's made a grave mistake.  It will take every ounce of courage and forgiveness for Judith to escape the dangerous situation she finds herself in.
Rounding out the cast are Vanessa Williams (SOUL FOOD, "Ugly Betty," "Desperate Housewives") in the role of Janice, the owner of the firm where Judith practices, and Kim Kardashian as Ava, Judith's sassy co-worker.   Accomplished singer and actress Brandy Norwood, better known to some as simply Brandy, will play Melinda, Bryce's co-worker, whose personal life ends up intersecting with Judith's in an unexpected twist.  Ella Joyce will play Sarah in the film, with Jerry Stiller ("Seinfeld," "The King Of Queens") also slated to make an appearance.
The film is being produced under Perry's recently extended multi-year first look partnership with Lionsgate.  Perry's 11 theatrical releases for Lionsgate in the past six years have grossed more than $572 million at the North American box office alone, and his films, stage plays and DVD's are also distributed by the company.  Perry also produces two hit television shows, "Tyler Perry's House of Payne" and its spinoff, "Meet The Browns," which are distributed by Lionsgate's Debmar-Mercury and continue to establish new standards of distribution and syndication success.
"I have a great relationship with Lionsgate and am proud to be making my thirteenth film with them," said Perry. " I always appreciate the artistic freedom they afford me, but will particularly appreciate it on this project, which explores family life even more up close and personally than I ever have before and speaks about so many universal issues and challenges that are dear to my own heart," said Perry of the project, adding "I also couldn't be more excited to be working with some fantastic actresses and some fellow multi-hyphenates for the first time on this project.  I know that we are going to have the time of our lives making this film together."