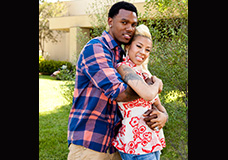 Starting this fall multi-platinum selling diva Keyshia Cole is joined by her NBA star husband, Daniel Gibson in KEYSHIA & DANIEL: FAMILY FIRST ( Premieres Tuesday, October 9th at 10 PM ET/PT), which chronicles the new couple as they adjust to married life, raising their adorable son and joining two seemingly different families while juggling their own careers.
Keyshia Cole's evolution from a promising R&B star to a multi-platinum selling artist was captured for three seasons by BET on her top-rated reality series, "The Way It Is." Viewers will once again join her on an emotional journey as she steps into a new chapter of her life. The new series gives a candid look at the R&B songstress at her most vulnerable, as a wife to NBA star Daniel Gibson, mother to her 2 year-old son D.J., daughter, sister, musician and businesswoman.
We've witnessed so many incredible and compelling moments in Keyshia's life, especially her tumultuous relationship with her mom and sister, Frankie and Neffe. Now Keyshia has found herself on the path to becoming the woman she was destined to be, but will her new life lead her down the road to success or will demons from her past continue to haunt her?
Photo Credit: Picture Group/BET
Photo Caption: (From L-R) Daniel Gibson and Keyshia Cole star in BET's new eight-part docu-series "Keyshia & Daniel: Family First"