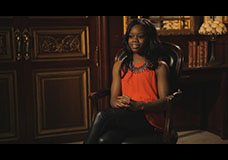 MTV recently announced its new docu-series "This Is How I Made It." This new weekly half-hour, 12 episode series will highlight two people per episode who have made it in their respective fields, chronicling the road they traveled in order to make their dreams come true.
Over the course of the series, viewers will hear the personal stories behind each person's journey including Chris Brown, Ciara, David Guetta, Demi Lovato, U.S.,Mac Miller, Meek Mill, Naya Rivera, Tyler Posey from MTV's "Teen Wolf," Wiz Khalifa and more.
Recently, the show featured Olympic Gold Medalist Gabby Douglas, To see an excerpt from Gabby Douglas' episode, click here.
Over the course of series, artists, actors, athletes and more will reveal the intimate details and personal stories behind their path to fame –and in so doing, provide a road map to success for their millennial fans. In each episode, "This Is How I Made It" will chronicle the moment they first realized their passion, when they felt they'd finally made it as well the sacrifices and setbacks they faced along the way.
Every story will be told through an intimate first person narrative aimed at inspiring viewers while giving them sound advice that can be applied to their own lives and dreams. In the end, each story is a testament that hard work and perseverance always pays off.