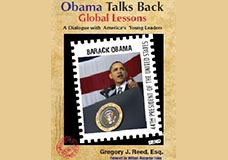 Amber Communications Group, Inc.'s imprint the award winning Amber Books has published Obama Talks Back: Global Lessons – A Dialogue with America's Young Leaders by Gregory Reed, Esq., CEO and Founder of Keeper of the Word Foundation, with a foreword and epilogue by William Alexander Haley, CEO, Alex Haley Foundation.
Obama Talks Back: "provides a rare glimpse into the private letters sent to the President and his accompanied remarks to our young people." – Carmel Middle School, Charlotte, NC.
President Barack Obama achieved a landslide victory in 2008 and has touched the lives of young people more so than any previous president. During his presidency, he sought to continue that inspiration by maintaining an engaged relationship with the nation's youth.
THIS OUTSTANDING AND HISTORIC COLLECTION of students' letters accompanied with President Obama's responses, speeches, public statements, and quotations during his campaign, tenure as President-Elect, and his presidency is the most comprehensive collection of letters and responses ever assembled as a book in the history of our nation for a sitting president. This collection of letters featuring the voices of today's young leaders and their mission to be heard is a rarity.
From these letters, we learn that these young citizens are committed to their country and the world. From President Obama we learn to respect the importance of listening to one another, and of perseverance. We learn in desperate times, we must have faith and know that we are empowered to change the circumstances and conditions of our lives and the destiny of America for the better.
The students letters in Obama Talks Back: Global Lessons- A Dialogue with America's Young Leaders reveal they have a concern for peace, healthcare, freedom, education, poverty, religious tolerance, love, materialism, and equality in America. Their letters address our nation's unattended concerns and issues of immigration, crime, poverty, global climate change, economic, racism, war, religion, same-sex marriage, discrimination, and many more. They recognize that President Obama shares their creativity and concerns, and supports their mission with his words and actions. Their letters are priceless, timeless, inspiring and powerful.
It is recommended that every Home, Organization, Library, University, Bookstore and College have this powerful and important book for the many upcoming generations of young leaders to read and remember the words of this historic 44th President of the United States of America.
Chapters in Obama Talks Back: Global Lessons- A Dialogue with America's Young Leaders include: "Message to Young People"; "The Letters: What I Want for You and Every Child"; "Obama Talks Back On: Education/Digital Currency, Courage and Hope, War-Crime-Non-Violence & Justice, The Economy, Social Concern-Activism-Family-Parenting"; "Obama Talks to American Students"; "Spiritual Journal to the White House"; "President Obama's Most Notable Speeches".
Obama Talks Back: "is an eye opener and an essential piece of reading for both America's families and America's leaders. It connects us to where we are in terms of values and lessons in the 21st century". – Cass Technical High School, Detroit, MI