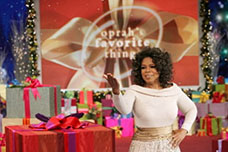 For the first time since 2010, Oprah's Favorite Things returns to television in a two-hour special event! Oprah reveals her must-haves for this holiday season and pulls off a top secret giveaway for an unsuspecting group of deserving military spouses. Plus, Oprah, her staff and her team of experts take viewers behind the scenes to reveal how it all comes together.
Tune in Sunday, November 18, at 8/7c!
Oprah's Favorite Things returns to kick-off the holiday season in a brand-new way. With the help of O magazine's editor-at-large Gayle King and creative director Adam Glassman, Oprah enlists famed designers Michael Kors and Tory Burch, along with celebrity chef Curtis Stone, for their insight into this season's hottest, newest, most delectable items of the year put together for the magazine's O List (on stands November 6).
From the electronic gadget that everyone will be clamoring for and sweet treats that can put anyone in the holiday spirit to a trip to an exotic island locale and a stylish way to get organized, Oprah's Favorite Things is jam-packed with great gift ideas just in time for the holidays including items you can only see in the television special. In addition, for the first time and in a way like never before, Oprah and her team honor a group of military spouses from each branch of the Armed Forces who have no idea that they are about to get the surprise of their lives.
During the two-hour event, viewers for the first time in the history of Favorite Things, will also have the opportunity to Watch and Win select items featured within segments of the show. By texting the correct key word to a short code at designated points throughout the premiere airing, viewers will be entered into a drawing to win some of Oprah's Favorite Things from 2012. Additional details on how to enter will be available starting November 1 online at www.oprah.com/favoritethings.