Shows Jesus' potential walk in today's urban world with disciples who unveil the revelations of a youthful, hip hop generation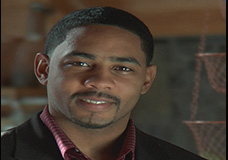 Boston-born filmmaker, educator and hip hop artist Domingo Guyton returns to the community where he was born and raised to launch his new film, " YTF" (Yesterday, Today and Forever).  "The film is an urban tale that depicts Jesus in the current day and how His ministry began to shake up the world," says Domingo Guyton, President of the HO.P.E. Multimedia Company and  an active hip hop artist and college professor.
"This family-friendly film is powerfully relevant with images, music and messages of a new generation," said one reviewer. According to Guyton, a born-again Christian and the film's writer, producer and director, "YTF is a film about Jesus' life as told in the Gospels. Imagine if Jesus Christ lived in your neighborhood today! How would He interact in today's society? How would He respond to the current day issues?  Would he respond the same as He did over 2000 years ago? Would hip hop music be the anthem of his ministry?
We invite you to watch this well-known story of betrayal, hidden sins, revelations of hope and healing along the journey of the disciples and see how it unfolds with a fresh, relevant and  new context and conversation.  You will see that Jesus Christ's words and actions are timeless in a changing world.  As it is stated in Hebrews (13:8), JESUS CHRIST is truly the same Yesterday, Today and Forever in this modern version of his life.
Inaugural film screenings and CD soundtrack launch will be held in Boston, MA on Friday, October 19, 2012 (6:30 pm)  at Hibernian Hall in Roxbury, MA and on Thursday, October 25 ( 7 pm)  at Showcase Cinemas Worcester North in Worcester, MA. National screening dates are now being scheduled.
For more information, contact: Domingo Guyton (508) 873-1718, domingoguyton@yahoo.com or Janine Fondon at (413) 221-7931, jfondon@unityfirst.com.
####