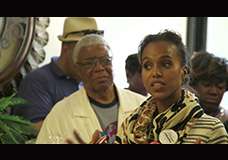 Premiering Friday, October 19 and October 26 at 9 PM ET/PM
BET News has partnered with the Brick City TV producers Marc Levin and Mark Benjamin, (producers of the Peabody Award-winning and twice Emmy nominated series "Brick City") and Emmy Award-winning and Academy Award nominated filmmaker Sam Pollard ("Slavery By Another Name" and "Four Little Girls") to produce a two-part news documentary, "SECOND COMING?: WILL BLACK AMERICA DECIDE THE 2012 ELECTION."
The documentary follows a diverse constellation of agents of political change and activism through the 2012 election cycle. Obama surrogate Kerry Washington, Usher, Samuel L. Jackson, Reverend Al Sharpton, Reverend. Jesse Jackson, Eve, Ice Cube, Yolanda Adams, pollster Cornell Belcher, Common, Snoop Dogg, 2 Chainz, A$AP Rocky, The RZA, Salt N Pepa, DMX, Redman, Cam'ron, Bun B, Joyful Drake, Warren G and Brandon & Lorielle Broussard, the young activists behind "Barack The Vote." Narrated by S. Epatha Merkerson,  the series will also focus on grassroots activists in battleground states Tarsha Williams, Charles Perry, Pastor Jamal Bryant and others who will take viewers behind the scenes of their effort to mobilize the black community to vote in another historic Presidential election.
"…Coverage of this election is now ubiquitous, almost to the point of distraction for many viewers. We sought a new way to bring the biggest story of the year – the fate of the first African-American incumbent President – to our audience in an engaging, highly journalistic way," said Loretha Jones, President of Original Programming and News, BET Networks. "We are excited to be working with Sam Pollard and Brick City TV who have helped us reinvent political coverage for our audience."
"Brick City wanted to do a series that fuses the personal and the political and that engages the BET audience," said Marc Levin, Executive Producer, Brick City. "We want the series to leave the audience wanting to be players not just spectators in this historic election," added Mark Benjamin, Executive Producer, Brick City.
"This groundbreaking series is a must see for the BET audience," said Executive Producer Sam Pollard. "The series digs deep and hits hard and is a must see for viewers in understanding how they can't just be bystanders but fully engaged in this historic election."