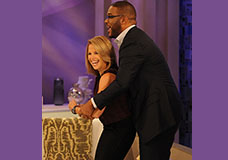 On a recent episode of "Katie," Katie Couric's new, nationally syndicated talk show (check local listings, katiecouric.com) Tyler Perry, one of the most prolific and influential forces in entertainment today – not to mention one of Hollywood's highest earners opened up to Katie.
While sitting down to talk about his latest film project, James Patterson's "Alex Cross," Perry shared some of his personal struggles and talked movingly about his current relationship with the late Whitney Houston's daughter Bobbi Kristina, stating "I just want to make sure that her [Whitney Houston's] daughter [Bobbi Kristina] has every chance to succeed."
In addition, Couric surprised Perry, who is known for his extensive philanthropic efforts, inviting some of those whose lives he has touched to the show to thank Perry in person.
Tyler Perry also talked  about the lack of support he received from a teacher while in high school:
KC: You've achieved extraordinary things with very little support. When you were in high school, one of your teachers basically said, "You're never going to amount to anything. Why try and fight the system?" Right?
TP: Yeah, yeah… he said, "You're poor and you're black. The system is stacked up against you. You'll never be" – because I said I wanted to be a businessman and be a millionaire. He said, "It'll never happen." And it's just fascinating to me the things that you remember. But for me, a lot of times, people take things in and they hear them and they, they let them in, and they let them live and they believe it. There was always something in me that said, "That's not true, don't believe that, and work as hard as you can."
KC: Is this man – Is this man still teaching?
TP: I have no idea. I have no idea.
KC: Because I want you to go back to school and show him Forbes Magazine naming you the highest-paid male entertainer of 2011.
TP: Yeah, yeah.
KC: No, I really do! (APPLAUSE)