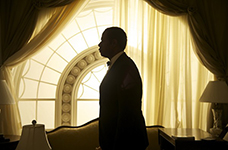 The film, which is slated for release on August 16, tells the true story of Eugene Allen, a butler who served at the White House from 1952 to 1986. Lee Daniels (Precious) is director of the film that stars Forest Whitaker as Allen, Oprah Winfrey as his wife, and David Oyelowo as his son.
The movie was inspired by Wil Haygood's Washington Post article about a black man (Eugene Allen) who served in the White House under eight presidents over three decades — from the Eisenhower administration through Ronald Reagan's presidency.
Winfrey plays the wife of Whitaker's title character, butler Cecil Gaines, and it marks her first big onscreen appearance since 1998's "Beloved." The elite cast also includes Alan Rickman as Ronald Reagan, Jane Fonda as Nancy Reagan, Robin Williams as Dwight Eisenhower, Melissa Leo as Mamie Eisenhower, John Cusack as Richard Nixon, James Marsden as John F. Kennedy, Minka Kelly as Jackie Kennedy, Liev Schreiber as Lyndon B. Johnson, and Orlando Eric Street as Barack Obama.